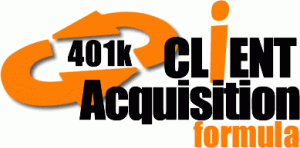 The 401k Client Acquisition Workshop
by Sharon Pivirotto, Stephen Wershing and Jane Murphy
Learn how to acquire, nurture and convert 401k prospects into raving referral sources…
---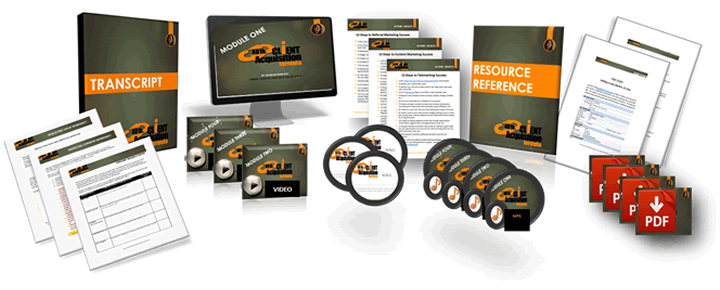 Would you like to grow your 401k business but lack sales resources and qualified leads?
It continues to get more difficult to get plan sponsors' time and attention and compete for new 401k business.
Why do some advisors consistently grow year over year while other advisors struggle to even get a qualified appointment?
The difference isn't in sales skills or fiduciary status. The difference is hidden inside the tactics and strategies used and the implementation of those strategies.
---
Introducing the 401k Client Acquisition Workshop,
a Step-by-Step Class

Hi, I'm Sharon Pivirotto and I created this highly actionable 401k Client Acquisition Workshop along with contributions from Stephen Wershing of the Client Driven Practice and from Jane Murphy of Acceleration Retirement.
Products and programs we've (individually) created are used by thousands of advisors and firms each year from large national providers, broker dealers and banks, down to individual RIA practices and investment offices.  Our programs and services include offerings such as the 401k Service Solution practice management tools and the 401k Service Training Program for retirement plan professionals by Sharon Pivirotto (sold to fi360, Inc.), Lead Generation Services and Cold Calling Bootcamp by Jane Murphy, and Client Advisory Board Services, and Referral Marketing Plan Development by Stephen Wershing.
This 401k Client Acquisition Workshop was created because experience has taught us that by following the strategies used by the industry's most successful firms, any advisor can grow a successful 401k practice. Inside the workshop, you'll learn simple strategies for identifying which marketing methods get results and how to be more effective with the methods you choose — without all the trial and error.
This step–by–step class is designed to give you exactly the information you need without all of the overwhelming and unnecessary details so that you can take action, stop trying to figure out how to get new business and start building a more successful 401k practice today.
---
What topics will the 401k Client Acquisition Workshop cover?
There are 3 main problems we will address in this workshop:
 1. I don't have enough qualified leads or prospects in the pipeline. (How do I get in front of more 401k prospects?)
If you think about it, there are a thousand ways to get a new client, but only a few that bring results with any consistency. If you identify those that have the highest success rate, eliminate the ones that you find difficult, painful and hard, you can focus on identifying how to make the methods you choose more effective.
In the 401k Client Acquisition Workshop, We're going to cover at least a dozen strategies on each of the prospecting methods proven MOST effective that will make it easier for you to get results using the strategies you choose. In other words, we will cover how to build a lead generation process that yields consistent results.
2. Prospects take too long to make a hiring decision and eventually we part ways. (Is there a magic formula for getting plan sponsors to engage me?)
Seventy-five percent of the prospects you meet will not have an immediate need and interest in hiring you. But that doesn't mean they won't become clients at some point.
In this workshop, we'll cover strategies for 1) building a lead and pipeline management process that helps to foster the relationship and pre-sell your value and 2) creating demand by asking the right questions and identifying key decision drivers.
3. It takes a lot of time and resources to get a new client (and sometimes I don't win the business but still spend a lot of time and energy). (How can I close more business and get my clients to refer business to me?)
Many advisors have a pretty high close rate once given the opportunity to build a relationship and identify the needs of the plan.  But what would make the process easier, more efficient, and get the clients to bring in new business for you?
In this workshop, We share the most important qualities needed for closing new business and creating raving referral sources. We cover the five qualities that create an advantage over your competition, tips to get your clients talking about you, and the most important ingredient that makes you referable.
Of course, those are just the highlights.
Here are ten more things you'll learn during the event…
---
10 More Things You'll Learn in This Class
How to identify which prospecting strategies you should use so you can stop throwing spaghetti at the wall and focus on what works.
Why asking for referrals doesn't work and what you should do instead.
The one thing you must absolutely be crystal clear on before you start any marketing strategy.
Why inbound marketing is so much more effective than outbound marketing.
How to use LinkedIn to research and prospect effectively.
The one thing your website is missing that you need to fix if you want to turn prospects into clients.
How to turn a cold call into a warm lead before you ever even talk to the prospect.
How to set the buying criteria so prospects can conclude on their own that they need to hire you.
The 6 most common mistakes advisors make in their prospect process and how to avoid them.
And most importantly, how to put the strategies taught into practice in your business.
---
Class details – what will you get?
Here's what your class will include:
All 401k Client Acquisition Workshop Videos (4 videos, 1 hour 33 minutes of class time)
Text transcripts of full classroom training with BONUS strategies and examples throughout
Video downloads
Audio downloads
Slide presentation downloads
$10 million dollar case study detailing a lead-to-client success story using the concepts in this program
13-point checklist to make referral marketing more successful
13-point checklist to make telemarketing more successful
13-point checklist to make content marketing more effective
"How to Position Your Firm for Growth in Four Steps" checklist (your marching orders for building a strategic growth process)
Three exercises (worksheets) to help you apply the strategies taught immediately
Resource Reference Sheet with all of the business building and time-saving resources mentioned in the class
How will you watch it? 
Immediately after purchasing, you'll be sent directly to a web page where you can play, pause, rewind, and download the workshop whenever you wish. You could literally be watching the workshop 5 minutes from now.
---
Plus, a Special Bonus…
When you register, you'll not only get full access to the class materials, but also some special bonus material. You'll get an inside look at the processes used, taught and applied by leading 401k industry experts.  A three-part interview series covering the habits of these top experts will be immediately available for you to listen to.
Learn about the strategies Jane Murphy of Acceleration Retirement used to grow sales in Fidelity's small-to-mid sized 401k division from $100k to more than $2 billion in new assets every year (all over the phone with her call center!)
Listen to the most effective methods of getting referred by Stephen Wershing, CFP®, author of "Stop Asking for Referrals – A Revolutionary New Strategy for Building a Financial Service Business That Sells Itself" (McGraw Hill)
Hear how the 401k Coach, Charlie Epstein is turning the prospecting process upside down with a new method to get in the door with plan sponsors and make a real difference in employee outcomes.
In 60 minutes of sales strategy interviews, you'll get practical ideas and lessons learned from studying the true masters of success in growing a thriving practice.
Ready to join?  Sign up and claim your spot in the 401k Client Acquisition class below.
---
Enroll Today
Your purchase includes…
Full access to the 401k Client Acquisition Workshop ($249 value). This 1 hour 33-minute class is filled with practical, proven strategies for finding, building a relationship with, and converting 401k plan sponsors into happy, referral generating clients. Learn how to identify what the most effective prospecting methods are for you, and implement them in such a way that you're able to grow your 401k practice and reach your business goals.
Free video downloads (included). All videos in the course are immediately available for you to download in MP4 format so that you can watch them on any device at any time you choose.
Free audio downloads (included). Every video has an accompanying audio version that you can download in MP3 format. If you're on the run, or if you just prefer to listen rather than watch, you can take this workshop with you anywhere.
Free text transcripts of all video files ($99 value). The 401k Client Acquisition Workshop is fully transcribed for you to download and read in PDF format. The transcript includes BONUS sections with additional strategies, examples, and resources above and beyond all that the training program covers.
Free downloads of the slide presentations (included). Over 90 slides, key points, and action ideas covering the prospecting, content marketing, referral marketing, telemarketing, lead and pipeline management, drip campaigns, success qualities needed to close and more are available for immediate download as soon as you join. You'll have access to every slide taught throughout the workshop as a PDF download.
Plus, 8 additional resources (case study, exercises, checklists, and more) ($49 value). You'll get a $10 million dollar case study that details a success story using the concepts taught in this program, plus a 13-point checklist on each of the three most popular prospecting methods for getting new leads. You'll also have three different exercises to complete through the program that will help you apply the strategies taught so you kick start your growth plan before you even complete the program as well as a Resource Reference sheet with all of the business building and time-saving resources discussed in class. Finally, with the "How to Position Your Firm for Growth in Four Steps" checklist, you'll have your marching orders for building a strategic growth process.
Three Expert Interview audio sessions ($249 value). In 60 minutes of sales strategy interviews, you'll get practical ideas and lessons learned from studying the true masters of success in growing a thriving practice. These interviews feature the leading authority in the 401k industry on closing the sale over the phone (Jane Murphy), the author of one of the most highly rated books on referral marketing ever written (Stephen Wershing), and the 401k Coach himself (Charlie Epstein).
Take this class ($846 value)


for only $289

 
If you're ready to grow your practice, click "Buy Now" to enroll!

---
ADDITIONAL LIMITED BONUS ($70 value)
Enroll in the workshop today, and I'll mail you these THREE valuable books discussed in the training: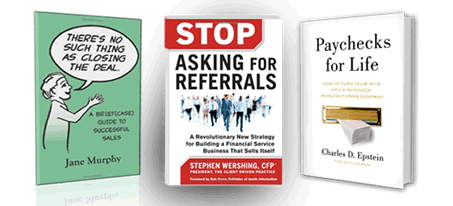 You'll get three books:
There's No Such Thing as Closing the Deal, A Brief(case) Guide to Successful Sales by Jane Murphy,
STOP Asking for Referrals, A Revolutionary New Strategy for Building a Financial Services Business That Sells Itself  by Stephen Wershing, and
Paychecks for Life, How to Turn Your 401(k) Into a Paycheck Manufacturing Company by Charlie Epstein
---
100% Money Back Guarantee
You can breathe easy with this purchase. This class is unconditionally guaranteed for a full 30 days. All you have to do is try it out, let me know if it hasn't served you well, and I'll promptly refund your money.
All you have to do is try out the material. Should the class not measure up to your expectations, you can email me and request a full refund anytime for a full 30 days. No delays, no questions asked.
---
Testimonials
Still not convinced? Read what other people are saying about the program.
Great program, one of the best I have ever been through. If you are serious about 401k's, you have to have this program.

I would recommend this to anyone wanting to grow their 401k business, who won't be competing with me. This program gave me the confidence to go after a 17 million dollar plan, thanks! ~ Tim Hudson, LPL Financial

I have written 6 pages of notes.  The material is great and there are action steps that I need to take.  Keep up the good work of creating resources that are needed. ~ Michael R. Callan, First Landing Financial

The workshop cuts through the clutter; allows me to refocus my marketing and prospecting work.

Although I've been in the industry over 20 years, my new hat as a retirement plan specialist has caused a BIG learning curve, greatly shortened by all of your top notch resources. I'm not out to reinvent any wheel, and you've saved me tons of time and headaches, allowing me to hit the road much faster and with much more confidence. ~ Alice Howe, Founder, Your Financial Watchdog

You never stop learning in the business and this course will either reveal new ideas or reinforce old ideas. All in all, it is well worth your time to go through this program. ~ Doug Fletcher, DTF Financial, Inc.
I'll see you on the inside.