The Committee Builder™ Document Pack
A complete, step-by-step process and set of documents so you can help plan sponsors set up and manage an effective committee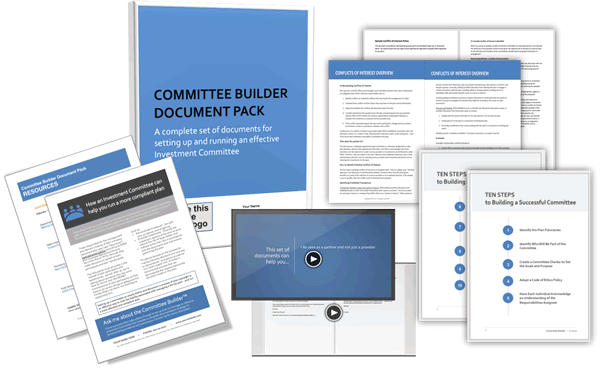 If you want to help your plan sponsors set up and run an investment committee…
If you want to offer something not everyone else is offering…
If you want a new topic to start conversations and open doors…
If you want to be a partner and not just a provider…
If you want to beef up your value proposition…
If you want to bullet-proof your book so other advisors don't come in with a committee solution that you didn't –

but could have

– offered…
…then you should get the Committee Builder Document Pack
Plan sponsors need your help to understand their responsibilities under ERISA. They rely on you to know the rules and help them meet the rules.  Setting up a committee to clearly define and document a process of plan oversight is an effective way to help plan sponsors limit the liability associated with managing a 401(k) plan – and run a more effective and compliant plan.
The Committee Builder will…
Help your plans set up a formal committee
Help your existing plans with committees already in place set up a more formalized process for how they run the committee
Give you a stand alone service you could offer (if you're able to accept fees)
---
What this is
NOT

…

This is not a training program. This is not more learning. This is not a what-to-do or how-to-do-it instructions and overview.

I've been involved in the set up and management of committees and there's a process you should follow and specific documents that provide education and documentation the plan sponsors need.

I don't want you to have to piecemeal the process together with no formal strategy or consistency.

It takes an understanding of the rules and an knack for how to construct the process – and I have both (document packs I created in the past even won an award from the Profit Sharing Council of America based on the effectiveness of the process to help plan sponsors understand their fiduciary responsibilities and improve their overall compliance using this system).

For that reason, I'm giving you the steps and the documents. You simply have to go out there and use them.
---
What You'll Get…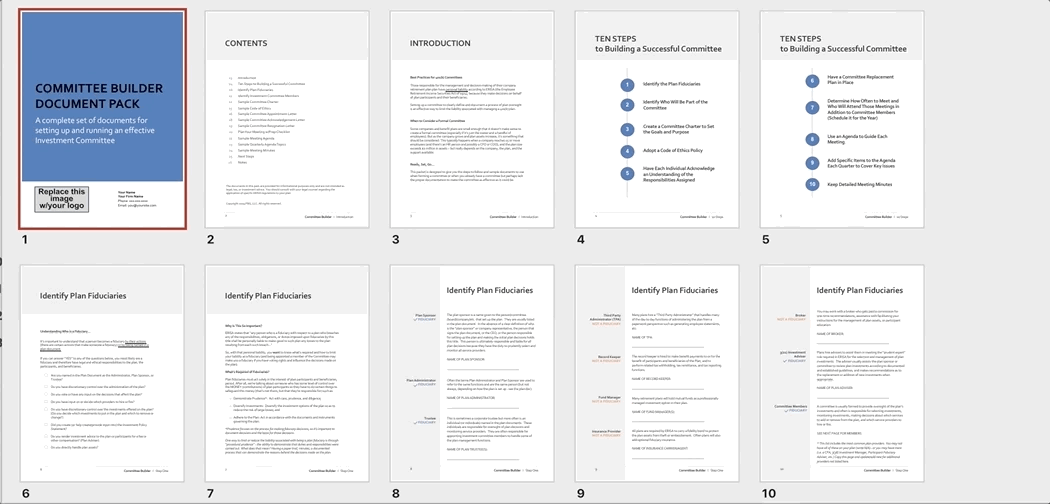 A Complete Committee Builder Document Pack – you customize with your logo and contact information and use to present a 10-step process for setting up and running an effective committee
A Step-by-Step Overview Video and Packet Walkthrough, detailing exactly how to use these documents with your plan sponsors
13 Individual Committee Document Templates to share with your clients that include:

Plan Fiduciary Worksheet
Committee Member Identification Worksheet
Investment Committee Appointment Letter Template
Recommended Reading form for Fiduciaries
Investment Committee Acknowledgement Letter Template
Investment Committee Resignation Letter Template
Committee Charter Template
Code of Ethics Policy Template
Committee Meeting Planning Worksheet
Committee Meeting Planning Checklist
Investment Committee Meeting Agenda Template
Suggested Quarterly Agenda Ad-Ons
Investment Committee Meeting Minutes Template

A Resource List – with additional resources that can help your plan sponsors better understand their responsibilities under ERISA

BONUS:

6 Additional Bonus Templates that include:

Conflict of Interest Education Piece (PDF for viewing and Word Doc for editing)
Conflict of Interest Policy Template
Alternate Plan Fiduciary Worksheet (more detailed version)
Trustee Acknowledgement Letter Template
Trustee Appointment Letter Template
Investment Policy Statement Template

BONUS:

Marketing Piece 

that provides some education, and an invite to learn more on how you can help plan sponsors run an effective committee (you simply add your contact info, get approved through compliance, and share it)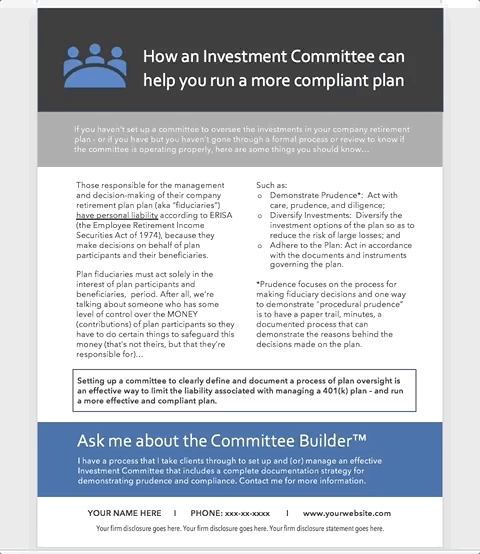 It's a complete step-by-step process and set of document templates so you can help plan sponsors set up and manage an effective committee.
In the past, document packs similar to this have only been available at premium prices ($1,495 – $2,495), limiting the reach and ultimately the benefit (to both advisors and the plan sponsors they serve). You won't have to pay anywhere near that to access these important compliance documents.
"With your help, our business has exploded and will continue to. The things I've learned with your help catapulted our business model. "
Roy Miranda
"Sharon has dedicated herself to developing her craft as an educational resource for the retirement plan market. She brings VALUE to the marketplace. I strongly recommend her services as she provides concrete and objective insights that can measured over time, you will not be disappointed."
Derek Fiorenza
Why are you selling this Document Pack for such a low price?
I could easily charge $1,495 for this pack and you could easily 10x that with just one new client or one new engagement.
But I want to help improve the 401k industry. Many of the advisers that visit this site are flying solo or are just getting started in the 401k market, so I want to make the resources, documents, and tools on this site accessible to everyone – because the use of these tools only helps to improve the quality of services being offered and the outcomes being achieved. I'd actually give it away for free, but it took a significant contribution of my time to create everything and make it accessible, so I think the price is fair for all of us.
---
HOW will I access the Document Pack?
On the "Thank You" page, you'll get a direct link to download the document pack and start using the documents right away – instantly. It's all on this website for you to access digitally.
---
Am I free to share this document pack with other advisors in my office/at my firm?
No. Purchase of this pack grants permission for a single-user to use the material with your personal plan sponsors clients. Redistribution or file sharing for any other purposes are not allowed. Contact me to discuss a group license.
---