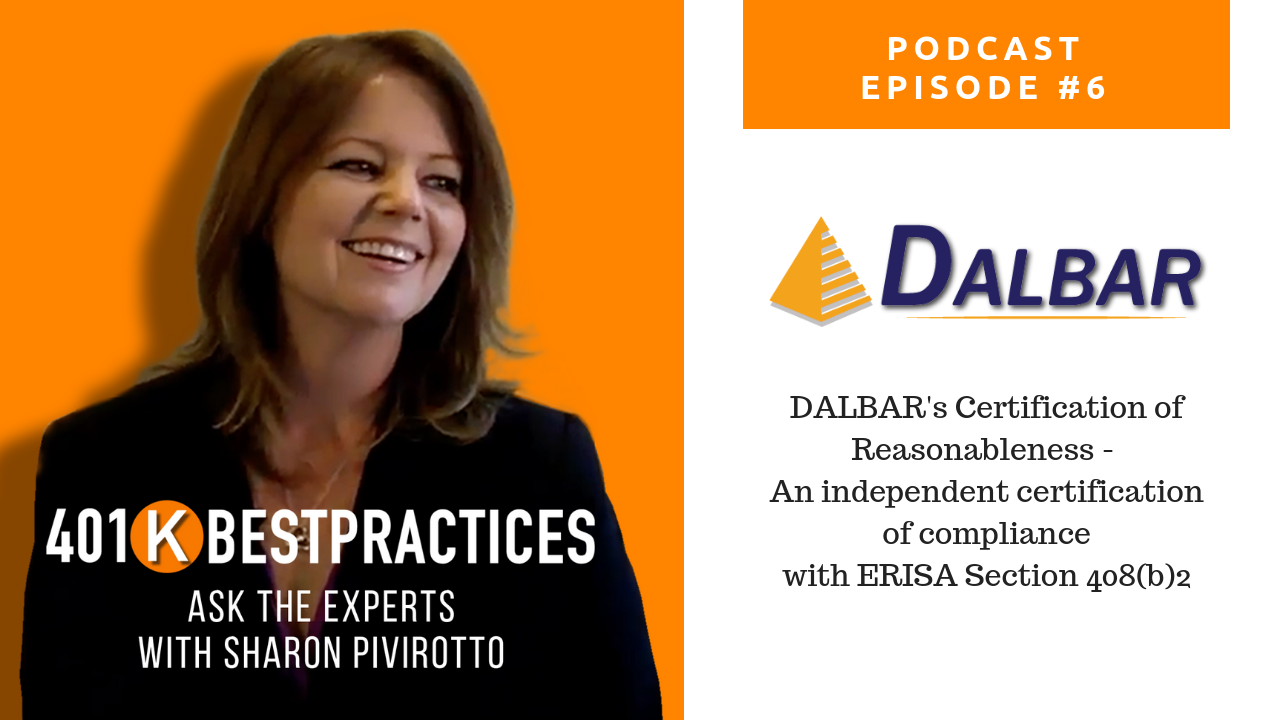 Episode #6  – DALBAR's Certification of Reasonableness
with Cory Clark
Last week I spoke with Cory Clark about the Registered Fiduciary (RF) Certification and in this episode, he answers questions about their Certification of Reasonableness (an independent letter from DALBAR (after analyzing the plan) that certifies the plan expenses meet ERISA's 408(b)2 definition of "reasonable").
It's an interesting  service that can:
Demonstrate benefits of the plan
Prove the program is a fair value
Meets ERISA and other regulatory requirements
Shows prudent business practices
Avoids potential conflicts of interest
Reduces exposure to litigation
Helps advisors market to new business with this service
In this episode you'll learn:
What is the Certification of Reasonableness

The biggest advantage of the DALBAR report over other reports – assuming we're comparing it to fee benchmarking reports

Where do the comparative numbers in the DALBAR database come from (statistical benchmark data)

If this is offered on ANY size plan or if there is a min/max plan size for this

If discounts are offered when an advisor or firm wants to have multiple plans certified

What is the average pass/fail rate on the certification process?

What does the application for certification look like – what all is required/asked of the advisor?

What expenses are reviewed (investment vs. record keeping vs. all-in)

What's the turnaround time from application to certification?

The importance of charging for services like this (rather than just giving it away for free)
---
---
To learn more about DALBAR's Certification of Reasonableness, visit:
COMING SOON…
Full video interview with transcript
Full review of the actual certification in a resource review blog post…
---
Don't miss out on all the strategies we'll be sharing in the future. Subscribe via iTunes to get access to future episodes and don't forget to leave a rating in iTunes. It helps more people find our show.
---
Disclaimer:  The information provided in these videos is for professional use only and not for use with plan sponsors or plan participants.  The information provided, ideas, opinions and commentary are meant to be educational and general in nature and any reference to ERISA or retirement plan regulations is not meant to be legal or financial advice or an interpretation of the laws, but rather a general discussion. Check with your ERISA attorney and compliance department for the applicability of any matters discussed to your specific situation.