401k Training
---
The 401k Client Acquisition Workshop
by Sharon Pivirotto, Stephen Wershing and Jane Murphy
Learn how to acquire, nurture and convert 401k prospects into raving referral sources…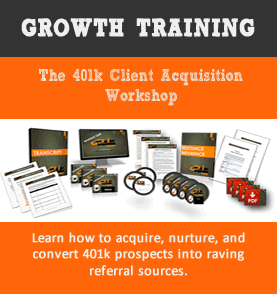 10 Things You'll Learn in This Class
How to identify which prospecting strategies you should use so you can stop throwing spaghetti at the wall and focus on what works.
Why asking for referrals doesn't work and what you should do instead.
The one thing you must absolutely be crystal clear on before you start any marketing strategy.
Why inbound marketing is so much more effective than outbound marketing.
How to use LinkedIn to research and prospect effectively.
The one thing your website is missing that you need to fix if you want to turn prospects into clients.
How to turn a cold call into a warm lead before you ever even talk to the prospect.
How to set the buying criteria so prospects can conclude on their own that they need to hire you.
The 6 most common mistakes advisors make in their prospect process and how to avoid them.
And most importantly, how to put the strategies taught into practice in your business.
Click here to learn more and to register.
---
The Positioned 4 Growth Workshop
Assess, enhance, and scale both your online presence and positioning and your internal plan service operations so you can position your firm to double your business.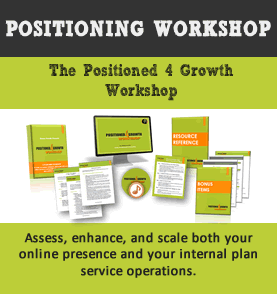 10 Ways This Workshop Helps You Position Your Firm for Growth
During the Positioned 4 Growth Workshop, you will learn how to…
Create an online presence that builds authority and credibility.
Choose which social media platforms to use and which ones to stop wasting time with.
Answer the number one question prospects have when looking you up online.
Transform your social media profiles into lead generating tools.
Identify the gaps in your service model that create opportunities for your competitors.
Quickly increase the value you offer clients with little time and effort.
Systematize your service process so you can scale and grow your business.
Avoid common mistakes most people make when onboarding new clients.
See an increase in leads and engagement, while spending less time managing your online social media accounts.
Ultimately, prepare and position your practice to double your business.