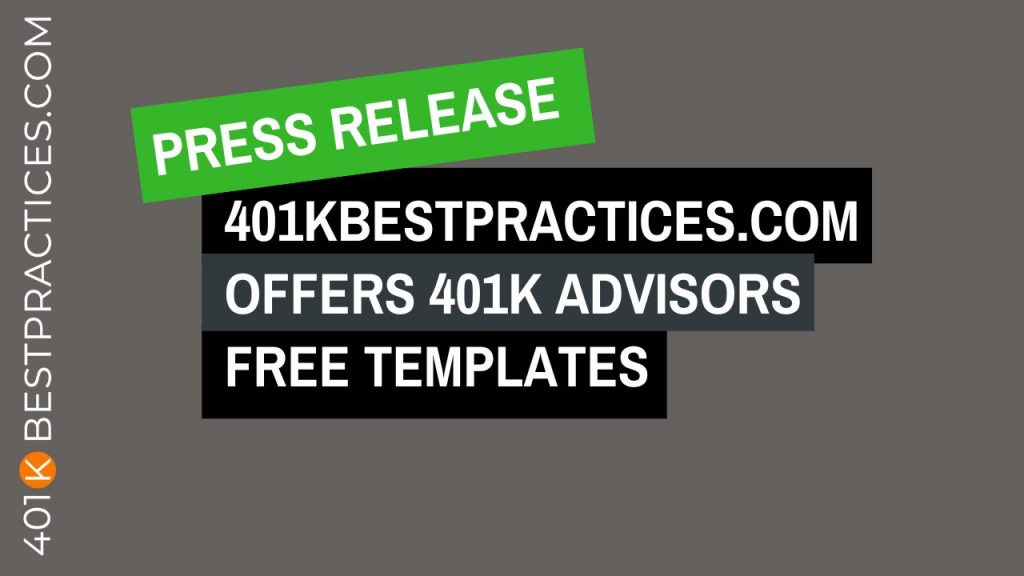 FOR IMMEDIATE RELEASE:
July 5, 2022
CONTACT:
Sharon Pivirotto
Pivirotto Resource Group
401kbestpractices.com
412-440-8806
info @ pivirottoresourcegroup.com
401k Best Practices Offers 401k Advisors Free Templates
401kbestpractices.com Is Giving Away Free Templates Every Week for Advisors Who Access the Free Members Area of the Website
Pittsburgh, PA: Sharon Pivirotto, Owner of 401kbestpractices.com has kicked off a weekly template share called, "Free Template Tuesday" where new templates get added to the Free VIP Resource Library on the website (free registration required). These templates are normally exclusive to those who subscribe to the 401k Business in a Box Library (paid subscription program).
According to Sharon Pivirotto, "I took a page out of Envato's playbook to allow advisors to test-drive some of the many templates added to the library each week, and to bring advisors back to the website since the templates are only available via the Library page and only for a limited time. Each template stays up for a week then access expires – unless you've joined the 401k Quarterback's library subscription program – then you always have access to all the templates."
Templates added today as the program kicks off includes: Free Social Media Graphics to Post in July, Free Social Media Content Calendar for July, and 20 Social Media Post Ideas – all from the recently released Social Media Posts in a Box Complete Kit.
The Social Media Posts in a Box Complete Kit is part of the 401k Business in a Box  – a document library that advisors can access with templates they can download, customize, and employ in their business. The library includes items such as: emails to send to plan sponsors, slide presentations, blog posts, lead generation funnels, fiduciary training for plan sponsors, point of sale brochures, social media graphics, turn-key service and compliance documents, and additional done-for-you documents that can save the advisor time and help them with their marketing and servicing of 401k plans.
To register for free access to the VIP Resource Library where the free Tuesday templates can be accessed, visit: 401kbestpractices.com/join-library
For details and to learn more about the 401k Business in a Box Library, the individual template kits, and full library access, visit: 401kbusinessinabox.com
About Sharon Pivirotto:  The 401k Business in a Box was developed by Sharon Pivirotto, a former Edward Jones advisor. Sharon developed the Professional Plan Consultant Designation (PPC) and the 401k Service Solution toolkits back in 2005 (winning a PSCA Signature Award in 2008 for some of her document templates). Both were sold to fi360 in 2013. She now runs the 401kbestpractices.com website full time to help financial advisors looking to specialize in the 401k market find strategies, best practices, and resources that will help them grow a successful and compliant 401k plan practice.
###