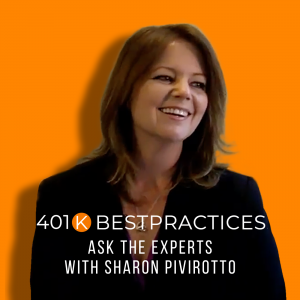 Welcome to the 401k Best Practices "Ask the Expert" Podcast with Sharon Pivirotto
Subscribe to the Podcast RSS Feed
---
You Can Also Listen and Subscribe to the Podcast On:
If you're looking for valuable strategies, resources and best practices to grow and protect your 401k business, then look no further!
The 401k Best Practices Podcast is your opportunity to hear from industry experts, learn about new resources, and get your most burning sales, service, and business management questions answered.
Use the recorder below to send me your Sales, Service, or Business Management question and you might be our featured topic for an upcoming episode of the "401k Best Practices" podcast.
---
(Or if you don't have a microphone set up, you're welcome to email your question to podcast@401kbestpractices.com.)