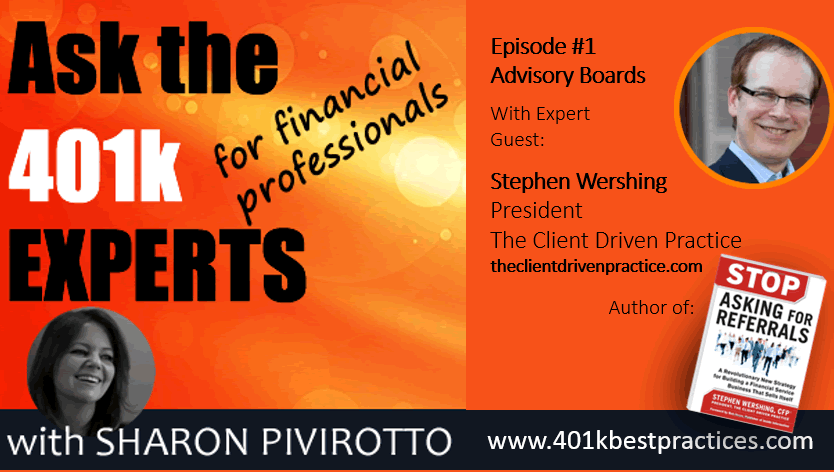 Episode #1  – Advisory Boards
With Stephen Wershing
If you're looking for ways to grow your 401k Practice, then you need to learn more about this referral marketing strategy that involves setting up Client Advisory Boards.
In this episode, I interview Stephen Wershing, President of the Client Driven Practice and Author of "Stop Asking for Referrals: A Revolutionary New Strategy for Building a Financial Service Business That Sells Itself".
He shares advanced referral marketing strategies through the discussion of what, why and how to set up a client advisory board.
In this episode you'll learn:
Who should be on an advisory board?
How do you invite people to participate?
Three key things you must tell your potential advisory board members.
The type and quality of questions to ask during that first meeting
Setting objectives ahead of time for the outcome of creating a board.
The only two reasons you should ever convene people together.
How to avoid constructing questions that can derail your objectives.
What is a third party facilitator and when would you want one?
Examples of in the field benefits of setting up advisory boards.
And more…
---
---
Items discussed in this program:
---
Don't miss out on all the strategies we'll be sharing in the future. Subscribe via iTunes to get access to future episodes and don't forget to leave a rating in iTunes. It helps more people find our show.
---
Disclaimer:  The information provided in these podcasts is for professional use only and not for use with plan sponsors or plan participants.  The information provided, ideas, opinions and commentary are meant to be educational and general in nature and any reference to ERISA or retirement plan regulations is not meant to be legal or financial advice or an interpretation of the laws, but rather a general discussion. Check with your ERISA attorney and compliance department for the applicability of any matters discussed to your specific situation.