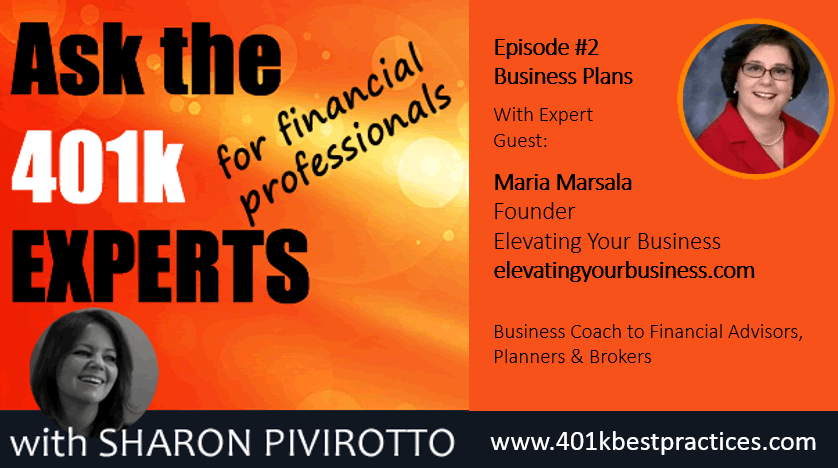 Episode #2  – Business Plans
With Maria Marsala
If you're trying to create a business growth strategy without first creating a business plan, then you need to listen to this episode of the 401k Best Practices Podcast.
In this episode, I interview Maria Marsala, Founder of Elevating Your Business, and Business coach to financial advisors, planners and brokers.
I recently reviewed a service Maria offers called the One Page Business Plan and I realized that one of the biggest obstacles many 401k advisors face when trying to grow their practice, is the lack of a clearly defined plan that should be the basis for setting goals, identifying strategies and activities, and proactively working towards an end result.
In this episode you'll learn:
What are the three main components every business plan should contain.
How to assess your practice at this point and time.
How to set goals.
How to define the strategies and action items for achieving your goals.
The common mistakes advisors make in creating and executing a business plan.
How much time and money you should expect to spend developing your plan (and an unbelievable way to get your plan done in a weekend for much, much less than you'd expect).
And more…
---
---
Items discussed in this program:
---
Don't miss out on all the strategies we'll be sharing in the future. Subscribe via iTunes to get access to future episodes and don't forget to leave a rating in iTunes. It helps more people find our show.
---
Disclaimer:  The information provided in these podcasts is for professional use only and not for use with plan sponsors or plan participants.  The information provided, ideas, opinions and commentary are meant to be educational and general in nature and any reference to ERISA or retirement plan regulations is not meant to be legal or financial advice or an interpretation of the laws, but rather a general discussion. Check with your ERISA attorney and compliance department for the applicability of any matters discussed to your specific situation.