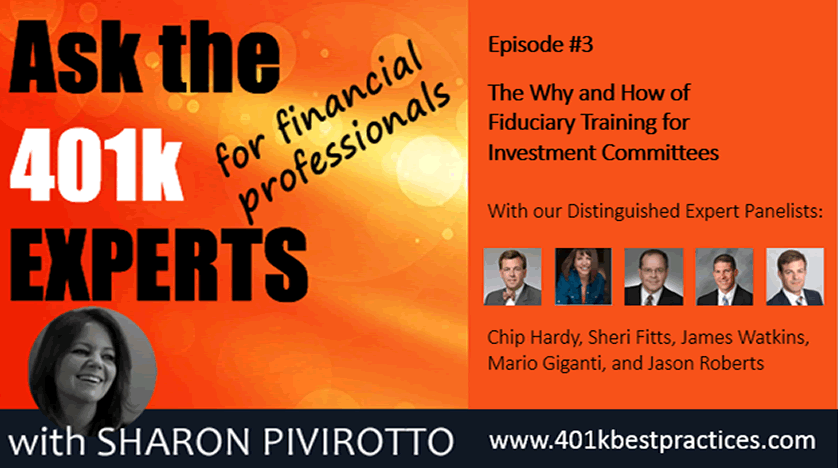 Episode #3  – The Why and How of Fiduciary Training for Investment Committees
With our Expert Panelists weighing in…
Since one thing I've always felt strongly about is the need for education by both 401k professionals and plan sponsors that have decision-making authority (see The Need for 401k Specialization), when a reader recently posed a question to the panel about fiduciary education, it wasn't a difficult call to include this critical topic.
In this episode, the panel tackles this recently submitted reader question:
How important is fiduciary education for retirement committee members and what resources are you using or would you recommend advisors look at for educating committee members?
Listen in as Chip Hardy, Sheri Fitts, James Watkins, Mario Giganti, and Jason Roberts share their thoughts on the best way to educate plan sponsors on their critical responsibilities.
In this episode you'll learn:
Why it's essential to include plan sponsor training in your service offering
The marketing angle advisors that offer committee training can use to gain a competitive advantage
How to address a wide range of topics effectively
A quarterly approach to committee training
How to avoid overwhelming plan sponsors with too much information
What resources, training and education tools are available to offer plan sponsor education to your clients
And more…
---
---
Items discussed in this program:
---
Don't miss out on all the strategies we'll be sharing in the future. Subscribe via iTunes to get access to future episodes and don't forget to leave a rating in iTunes. It helps more people find our show.
---
Disclaimer:  The information provided in these podcasts is for professional use only and not for use with plan sponsors or plan participants.  The information provided, ideas, opinions and commentary are meant to be educational and general in nature and any reference to ERISA or retirement plan regulations is not meant to be legal or financial advice or an interpretation of the laws, but rather a general discussion. Check with your ERISA attorney and compliance department for the applicability of any matters discussed to your specific situation.