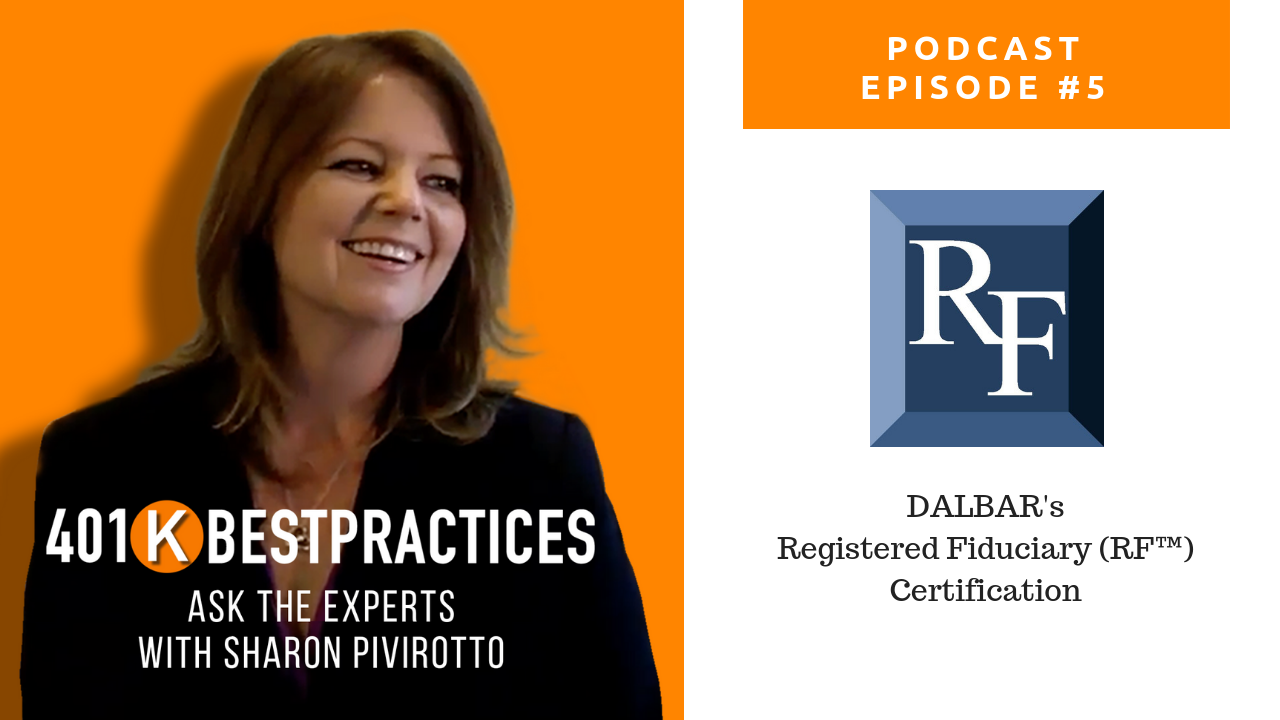 Episode #5  – DALBAR's Registered Fiduciary (RF™) Certification
with Cory Clark
After putting together the Retirement Plan Professional's Designation & Certification Guide and having a chance to learn more about the various programs out there, DALBAR's Registered Fiduciary (RF) Certification caught my eye as something that doesn't look or sound or feel like the other programs out there.
I put it on my list as a program to complete this year, and reached out to Cory Clark, the Chief Marketing Officer at DALBAR, Inc., to learn more.
In this episode you'll learn:
What the RF Certification is and why an advisor would want to earn that certification

If the training offered is something anyone can buy and go through, even if they're not planning to hold the RF certification

If an advisor would complete both the wealth management and 401k training or if they choose which specialty they want

What qualifies for exemption from the training (you don't have to complete the training necessarily to apply for the RF certification

How DALBAR actively promotes the RF Certification

Who would be the ideal person to go through this certification process

The limits Cory has seen on who is allowed to use this certification in marketing and who isn't

What is the biggest difference between the RF Certification and other options out there (designation and certification programs for advisors)
---
---
To learn more about DALBAR's Registered Fiduciary certification, visit:
COMING SOON…
Full video interview with transcript
Full review of the RF program as I complete it…
---
Don't miss out on all the strategies we'll be sharing in the future. Subscribe via iTunes to get access to future episodes and don't forget to leave a rating in iTunes. It helps more people find our show.
---
Disclaimer:  The information provided in these videos is for professional use only and not for use with plan sponsors or plan participants.  The information provided, ideas, opinions and commentary are meant to be educational and general in nature and any reference to ERISA or retirement plan regulations is not meant to be legal or financial advice or an interpretation of the laws, but rather a general discussion. Check with your ERISA attorney and compliance department for the applicability of any matters discussed to your specific situation.