How to Scale Your 401k Business with Segmented Service Models
Trying to find ways to scale your 401k business (or put a system in place so you can scale easily as you grow your 401k business?)…
In this article, I cover what your service should include for every client regardless of plan size, and how to put a system in place to manage the small plans and the big plans, from 2 plans up to 200 plans.  This is actually the cliff-notes version of a much more comprehensive training video.
ACCESS THE FULL TRAINING ON THIS TOPIC
Here's a link to the Free 3-Part Training Titled: The Secrets to Closing More Business and Scaling Your 401k Practice and if you click the link and register, you'll have instant access to four, full-length training videos. Each video is about 20 to 30 minutes long. They are meat and potatoes 😉 . They are filled with information that's going to help you. Plus, each video has a follow-along workbook, worksheets, free templates, and more.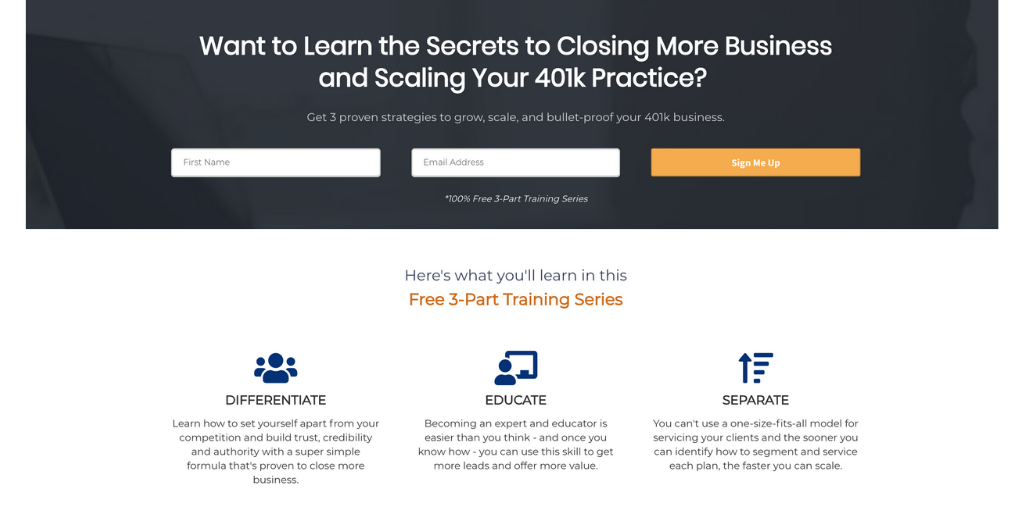 But in this article, let me give you the cliff-notes version of that third lesson.
What Your Service Model Should Include For Every Client
It's important to first understand what a baseline service model should look like. This is for any advisor servicing 401k plans – it doesn't matter whether you're in the micro market or the large market.  Every plan, in my opinion, should have a baseline set of services that you offer including documents on file to demonstrate a prudent process is being followed.
They include:
Goals and objectives clearly defined
Fiduciary responsibilities, defined, understood, and acknowledged
A written investment policy
Periodic investment monitoring
Documented periodic review of benchmarking their service providers
A participant success program in place
A plan compliance file centralized
A proactive service model in place
To put it another way. Here's the minimum service model:
An investment policy statement
A plan compliance file
Benchmarking every three years
Quarterly investment review reports (adding in an educational piece with their quarterly communications)
An annual review (plan sponsor level) and annual employee education (participant level)
It's not that complicated when you put it like that. It's just perspective how you look at it.
Simplifying Your Service Model
And you can simplify your service model by thinking of it this way. Regardless of plan size, all clients are:
Put on a quarterly schedule and they get the same baseline set of information
The annual review is the same quarter for all plan
With that quarterly communication (for some it's emailed for some it's in person) it includes the quarterly investment report and an education topic piece on something that's going to be important to plan sponsors (fiduciary education rules, regulations).
So. it's easy to simplify.  And as the plan size increases, so does the frequency of communication, so does the level of detail, so does the time involved on your part and your team's part, and so does the number of compliance documents that might be in their file.

Examples of Segmented Service Models that Includes All Listed Components from Above
In the full training, I give you examples of a small plan, medium plan, and large plan service model, and how exactly you would address each of those "must haves" from a practical standpoint. (It's a very visual example that's better viewed than read about). Each segment looks a little bit different depending on if it's a micro plan or a larger plan.
And I give you some ideas on how you can visually explain (and show) each service model for each segment. I actually give you a downloadable file – a PowerPoint file with more than 10 different editable service model examples (graphics) included.  Being able to visually show your service model is much easier for plan sponsors to understand.
And it helps you to get clarity on the service model that you deliver in a way that allows you to scale as our plans grow in size.

Always Be ReSelling Your Services
One important side note is you need to be reselling your services every time you meet with your plan sponsors.  Just because they've hired you, doesn't mean they won't fire you. Especially if they're not 100% sure what you're doing for them throughout the year.  That makes it critical that every time you have a quarterly meeting (or especially at those annual review meetings), you recap all of the services that you've offered them over the course of the year. Include all of the little behind-the-scenes, things that have been done for that plan throughout the year.
The full training series, I share with you an example of what that looks like as well. I would suggest that you go to https://www.401kbestpracticelab.com/free-training-workshop where you will find more context, more examples, more in-depth information, a workbook, and templates. There is a link to the editable process graphics in a PowerPoint presentation and more…
So go to the website and enter your information and make sure that you go to Lesson Three and download the PDF and the handouts that are available as part of that lesson.
---
Listen to the Podcast episode of this topic here.
Or watch the video on YouTube here (coming soon).