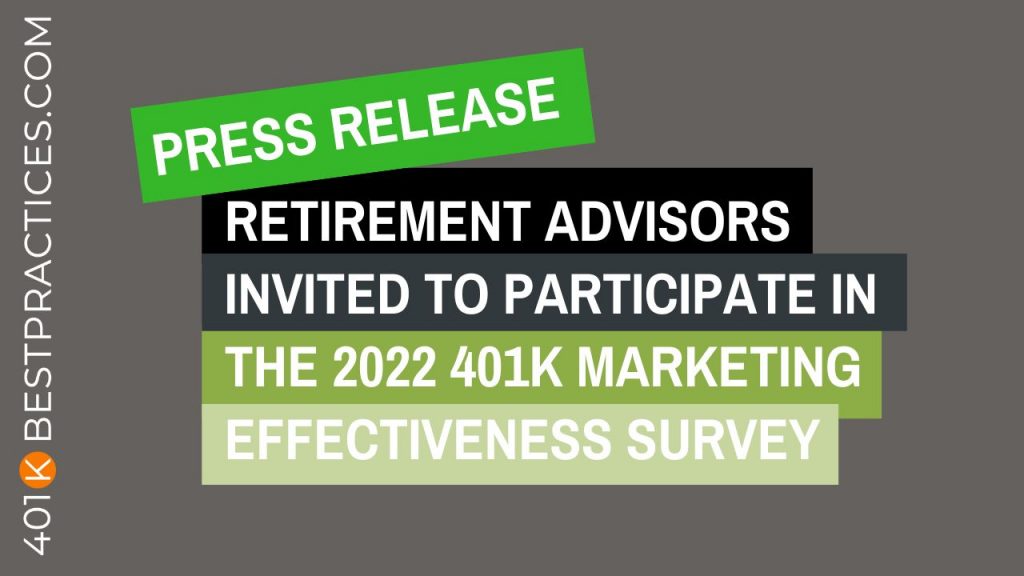 FOR IMMEDIATE RELEASE:
July 19, 2022
CONTACT:
Sharon Pivirotto
Pivirotto Resource Group
401kbestpractices.com
412-440-8806
info @ pivirottoresourcegroup.com
Retirement Advisors Invited to Participate in the
2022 "Marketing Effectiveness Survey"
A 401k Marketing Survey is open to Retirement Plan Advisors with the results to be released by 401kbestpractices.com 
Pittsburgh, PA: Sharon Pivirotto, CEO of Pivirotto Resource Group and Owner of the 401kbestpractices.com website invites retirement advisors to participate in a short Marketing Effectiveness Survey. The survey analysis and results will be included in the 401k Plan Marketing Playbook, a free resource guide that helps retirement advisors identify effective marketing strategies for growing their retirement plan practice.
According to Sharon Pivirotto, "How to get new 401k leads into an advisor's prospect pipeline is a topic that generates a lot of questions – and challenges. Most advisory practices have to balance prospecting with client service and finding efficient and effective way to compete for new business is essential to meeting business growth goals. This survey always provides a lot of insight to help advisors looking for new ideas and effective ways to market to 401k plan sponsors. I'm excited to see how the results have changed from the survey we conducted three years ago."
The "Marketing Effectiveness Survey" can be accessed on the 401k Best Practices website at https://www.401kbestpractices.com/survey.
By taking the survey, retirement advisors will receive a copy of the 401k Plan Marketing Playbook and survey results when it is released, and be entered for a chance to win one of several prizes including a $100 Amazon gift card, 401k Quarterback swag, and a template kit of choice from the 401k Business in a Box template library, which will all be awarded when the survey closes on September 1.
About 401kbestpractices.com:  The Marketing Effectiveness Survey has been published every few years by Sharon Pivirotto at the 401kbestpractices.com website.  401kbestpractices.com was created to help financial advisors who specialize in the 401k market find strategies, best practices, and resources that will help them grow a successful and compliant 401k business.
###