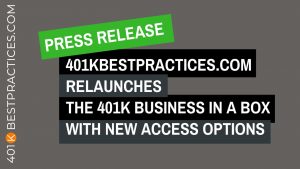 FOR IMMEDIATE RELEASE:
July 17, 2022
CONTACT:
Sharon Pivirotto
Pivirotto Resource Group
401kbestpractices.com
412-440-8806
info @ pivirottoresourcegroup.com
401k Best Practices Relaunches 401k Business in a Box with New Access Options
A Sales and Service Template Library that Was Closed to the Public Has Been Re-Opened for 401k Plan Advisors to Access
Pittsburgh, PA: Sharon Pivirotto, Owner of 401kbestpractices.com has re-opened the 401k Business in a Box Template Library for 401k Plan Advisors to access. With the re-open comes a 401k Quarterback subscription option for advisors who want to access the entire template library. Individual template kits are also available a la carte for those looking to accomplish a specific objective who aren't ready for full library access.
According to Sharon Pivirotto, "The library was closed for a period of time while new material and new subscription options were added to accommodate feedback and requests from advisors."
The template library was originally released in early 2020, just as COVID hit, and its continued development was halted due to several factors pertaining to how the market dealt with the COVID situation.
As we emerge from COVID and move into ongoing uncertainty the market and the economy pose, Sharon has turned her part-time hobby of creating resources for advisors into a full-time mission. "I see so many advisors losing access to resources that used to be available, but now are being swooped up in the massive mergers and acquisitions we see in the industry. Unfortunately for the solo advisor or small office not associated with a larger firm, this is leaving them with even less options than before for accessing resources to help them market to and service the 401k industry."
The 401k Business in a Box is a document library that advisors can access with templates they can download, customize, and employ in their business. The library includes items such as: emails to send to plan sponsors, slide presentations, blog posts, lead generation funnels, fiduciary training for plan sponsors, point of sale brochures, social media graphics, turn-key service and compliance documents, and additional done-for-you documents that can save the advisor time and help them with their marketing and servicing of 401k plans.
For details and to learn more about the 401k Business in a Box Library, the individual template kits, and full library access, visit: 401kbusinessinabox.com
About Sharon Pivirotto:  The 401k Business in a Box was developed by Sharon Pivirotto, a former Edward Jones advisor. Sharon developed the Professional Plan Consultant Designation (PPC) and the 401k Service Solution toolkits back in 2005 (winning a PSCA Signature Award in 2008 for some of her document templates). Both were sold to fi360 in 2013. She now runs the 401kbestpractices.com website full time to help financial advisors looking to specialize in the 401k market find strategies, best practices, and resources that will help them grow a successful and compliant 401k plan practice.
###