Do you have a strong 401k committee or are you looking to set up a 401k committee?
There is so much great information online to help you set up and manage a 401k committee  –  in the last several months alone I've seen over 50 articles on committee best practices come through my inbox.
To save you time, below you'll find seven of the best articles I've found for building a strong 401k committee filled with common (and not-so-common) strategies to consider.
---
1. Best Practices for Setting up a 401k Committee
When you're just starting out, knowing when to set up a committee, who should be on the committee, how often to meet, and what to put on the agenda are the essentials elements you need to understand.  You'll find this key information in an article found here on the 401k Best Practices blog.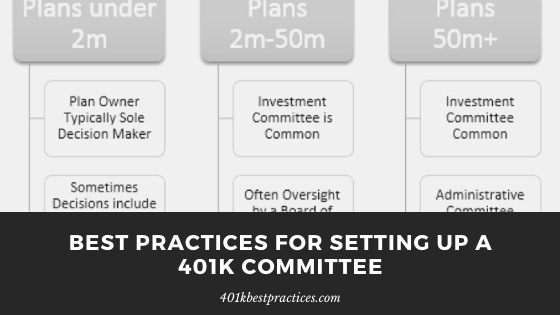 ---
2. Naming the Committee in the Plan Documents
One key way to "Reduce Exposure to 401k Plan Class Action Litigation" is to make sure your board members don't take more fiduciary liability than necessary and in this article by Pillsbury Law, you'll find guidance for setting up (or amending) plan documents to properly name the correct party as the ERISA Plan Fiduciary.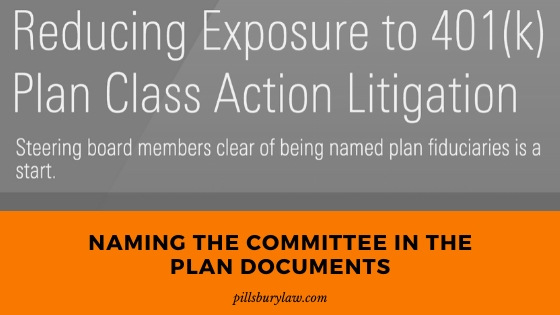 ---
3. Building the 401k Committee Charter
When you set up a committee, one of the first steps is creating a formal Committee Charter and there are some key things you want to ensure your charter addresses.  In this article, found on the NAPA website, you'll find a list of key questions your committee charter should answer.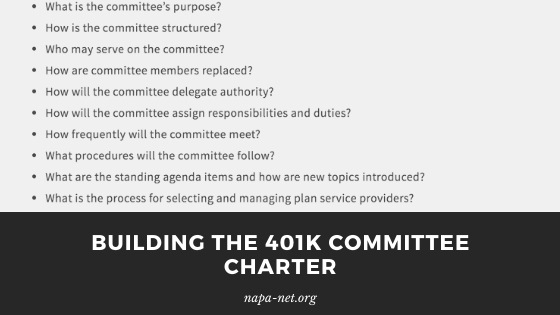 ---
4. What a 401k Committee Member Should Know
Committee members should fully understand the responsibility and liability associated with being on the committee. This article by NAPA outlines 4 things plan sponsors should know and includes a suggestion for a formal "onboarding" process for plan committee members.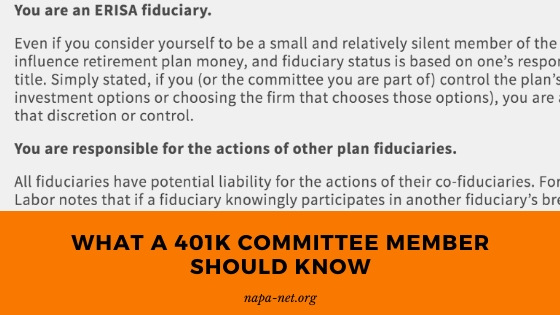 ---
5. Training the 401k Committee
Plan sponsors don't know what they don't know… and as a 401k plan adviser, you can help them with initial and ongoing training on key fiduciary topics. In this article found on the PLANADVISER website, several top 401k plan advisors discuss their best practices on the timing, topics, and tips for effective 401k committee education.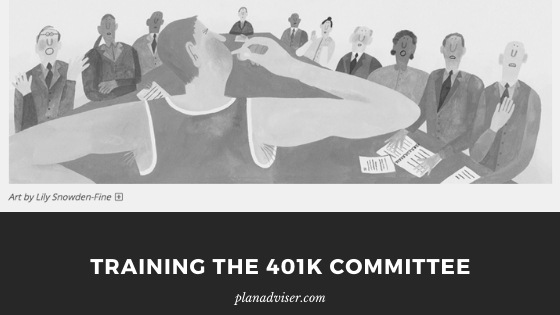 ---
6. Increasing the Effectiveness of the 401k Committee
One of the best resources I've found that can help you improve the effectiveness of your committee is a paper by Arnerich Massena.  In this paper, you'll learn how to set expectations of committee members, how to avoid group-think, and how to reduce the workload of the committee (and time involved in managing the retirement plan).
---
7. Tips for Managing Retirement Plans
In this article on the PLANSPONSOR website, you'll find 5 Time-Tested Guidelines for Effectively Managing Retirement Plans. Discussed are best practices and recommendations that are often overlooked, which can lead to deficiencies in retirement plan management.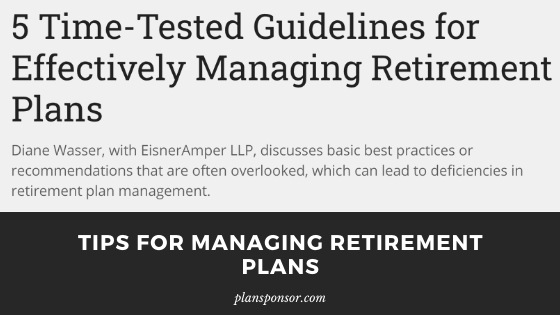 ---
The information above provides a pretty comprehensive strategy for both setting up and managing a strong 401k committee.
Share it on Twitter or LinkedIn and tag me (@sharonpiv) and let me know what else you'd add to this list to round it out.