Download the Investment Committee Starter Kit
Information on what plan sponsors need to know and do when setting up an Investment Committee (with sample committee templates)
Helping your clients set up an investment committee to clearly define and document a process of plan oversight is an effective way to help them limit the liability associated with managing a 401(k) plan, and provide tremendous value.
There are a lot of great articles on how to build a strong 401k committee – but I wanted to make it easy for you to explain to plan sponsors what to do and how to do it, so I put together this 18-page Investment Committee Starter Kit.  It's not a big long comprehensive overview of fiduciary responsibilities…
It is a short, easily digestible, instant-value giveaway that you can use all together, or as 10 individual handouts – that's up to you.
Besides the bookends (the cover and the last page where your contact information would go), here's what's included in this downloadable PDF: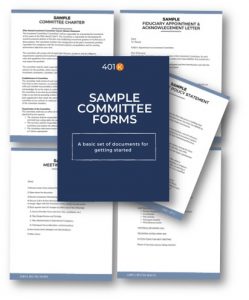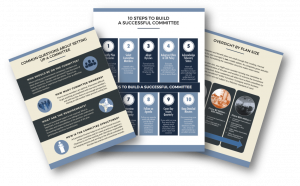 ​5 Sample Forms Including:
​Committee Bylaws
Fiduciary Appointment & Acknowledgment Letter
Sample Meeting Agenda
Sample Meeting Minutes
​Investment Policy Statement
5 One-Pagers Covering the Following Topics:
​Why Set up a Committee
​Oversight by Plan Size
​10 Steps to Build a Successful Committee
​Common Questions about Setting up a Committee
Document & Regulation Overview
---
Here are just some ways you can use this download:
> To grow your business – if you're looking for ways to add value when you meet with prospects – or something to get your foot in the door – give them this investment committee starter kit – or even just one or two of the educational one-pagers found within, or any one of the sample template forms…
> To service your clients – if you want to add more value to your existing relationships, this set of documents will help you add another layer of value to your service model
> To bullet proof your book – your small plans may not be ready for a full-blown committee yet, but at some point they will be, and if they don't know you can help them with setting up a committee – you've left yourself open to your competition coming in and discussing this with them
> To move up-market – if you only work in the micro plan market and want to move up market, having this resource can open doors to plans ready to set up a committee as they often outgrow their current "services" and want someone to proactively discuss next steps with them
> To generate leads online – if the only thing you have on your website is an opt-in form asking people to "subscribe to our newsletter" – change that to – "download the free committee starter kit" and you'll start to get qualified leads by exchanging something of value with an email address of someone that wants information on services you offer
Note – the Investment Committee Starter Kit is completely free.
Click here for Instant Access to the Committee Starter Kit

---
Note: This kit can be used as is with no editing, just add a final page with your contact information.
You'll have an option to grab the fully editable PowerPoint version (for less than $50) making it super-simple to customize if you do want to make changes, update the design to match your brand, etc..  If you do that, here are some suggestions for customizing this investment committee kit to make it your own:
1. Consider changing the title to: "401k Plan Fiduciary Kit" or "Retirement Plan Committee Resource" or "401k Committee Kit" or "401k Committee Template Pack" or "Committee Resource Kit" or… keep it the same – that's up to you!
2. Swapping out the book "Best Practices for Investment Committees" referenced on one page of the kit (since it is no longer in publication as of 10/22/22) with the free DOL Guide "Meeting Your Fiduciary Responsibilities" or fi360's "Prudent Practices for Investment Stewards" or… any other book you think Plan Sponsors should read.