Creating Your Own Unique 401k Service Process
How can you avoid the commoditization trap – selling the same products and services as everyone else and competing on price?
In this article, I'm sharing one way to package your services that allows you to sell value and the experience you're taking your clients through (instead of having to compete to sell the same products and services that everyone else offers).
The Commoditization Trap
The commoditization trap is basically competing to sell the same products and services as everyone else – and having to compete on price. How can you stop competing on price and start competing on value?
I think you can do that by selling the experience you're taking clients through instead of your products and services.
What I mean by that is you should create a unique service process that explains the services that you offer and what the experience looks and feels like as a plan sponsor client.
An Example of a Unique Service Process – the 401k Service Solution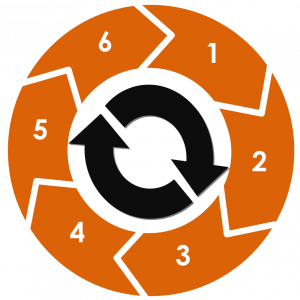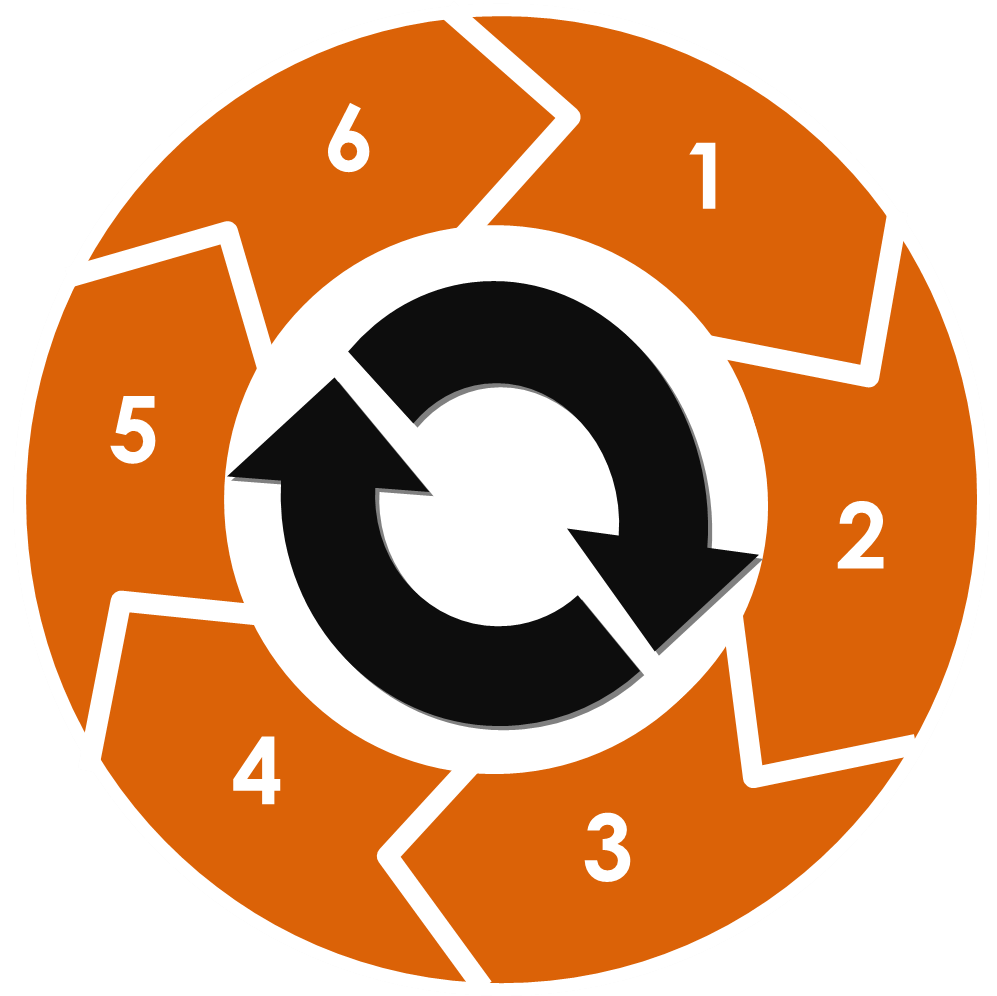 Back in the day, when I was a practicing financial advisor, my partner and I created the 401k Service Solution.  I actually created a full-on binder that had a set of clear plastic sleeves for each step in this 6-step process.  Each step included an education guide, a workbook, and then a summary report containing the key decisions and documents for that step.
Here's are the 6 steps in that 401k Service Solution* process:
The Vision Session – defining your vision of plan success
A Solid Foundation – using an investment policy statement effectively
The Portfolio Builder – comparing plans and reviewing expenses
The Advanced Investor Series – developing an effective employee education program
The Peak Administration Guide – staying informed and educated about your plan
The Lead Fiduciary Practice – reviewing your plan's investments
So basically, every service that we offered (that everyone else offered), we gave it a name. Then we created our own multi-step process for each particular service offering outlining the steps that we would take clients through. And then we called the whole set, the whole six steps, the 401k Service Solution.
Another Example – Charlie Epstein's 401k Coach Retirement Solution (trademark of Epstein Financial Services)
Another example is Charlie Epstein's "The 401k Coach Retirement Plan Solution." The stages in his process included:
The Plan Evaluator
The Plan Optimizer
The Fiduciary Shield
The RFP Manager
The Paychecks for Life Experience
The Wealthcare Monitor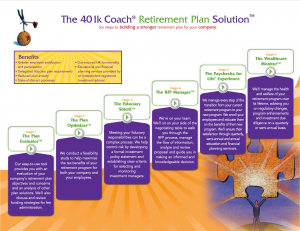 So do these examples help you understand what I mean when I say create a "unique process" to take your clients through the experience of what it's like to work with you? To take all of the services that you offer and put them in a format, in a process that the plan sponsors can easily understand?
There's more value and more credibility that comes with saying, "We're going to take you through the Plan Optimizer Process,"  instead of just saying, "We are going to help you review your investments and make any changes."
We're basically talking about packaging up the services that you offer into a unique process that plan sponsors understand.
And when you go through the exercise of creating a process, your services actually do become more valuable. You see the gaps in what you're offering. You're able to identify all of the different phases and things that have to take place for every one of the services that you offer. You're able to more easily explain that to plan sponsors. So it actually does become more valuable. And it sounds a lot more valuable as well.
Creating Your Own Unique Service Process
To build your own unique process, start by writing down all of the services that you offer. Then give each service a unique name. Just having a name implies value and suggests that it's not a commodity.
Give each stage a descriptive, but unique name, like: blueprint, formula, process, evaluator, manager.
Then package up your process in a visual way.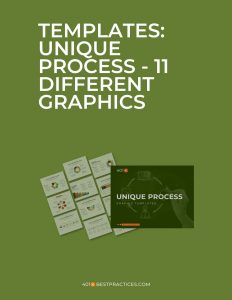 Inside the 401k Quarterbacks Template Library (and inside the Pitchbook Presentations in a Box Kit, we have over 11 different super-easy-to-edit graphics already created for you to choose from. Simply pick one, modify the colors to match your brand, add your own unique process names – then you have a visual representation of your service process.
But it's really not difficult to create your own unique service process. If you do a Google search right now with the term "401k service process," you'll find several other examples from other advisors who are doing the same thing.
And I know when I read about any company who has a process for how they deliver their services, I see them as more of an expert. I think to myself – they must have more experience, more knowledge, more organization skills than most of us – and more sales skills, because truth be told from a marketing standpoint, it's an authority builder when you've packaged up what you offer and you've put it into a process.
This article is a super-condensed version of a longer training that includes more examples and a full workbook for creating your own process that I'd be happy to share with you if you're interested. If you would like that, send me an email and I will send you a link to it.
And if you want done-for-you process graphics that you can use to build your own unique process, I have those inside the 401k Quarterback's Template Library.
*The 401k Service Solution is a trademark of fi360 (since we sold them our IP on that process back in 2013)
---
Listen to the Podcast episode of this topic here.
Or watch the video on YouTube here (coming soon).