401k Prospecting and Conversion Tips
How do you get in front of more 401k prospects? What's the best marketing strategy to use? And how do you convert those prospects to clients?
In this article, I share a few strategies on common marketing methods that work, the key to success in marketing, and tips to convert those prospects to clients.  This is actually the cliff-notes version of a much more comprehensive training video.
ACCESS THE FULL TRAINING ON THIS TOPIC
Here's a link to the Free 3-Part Training Titled: The Secrets to Closing More Business and Scaling Your 401k Practice and if you click the link and register, you'll have instant access to four (INCLUDING THE BONUS LESSON), full-length training videos. Each video is about 20 to 30 minutes long. They are meat and potatoes 😉 . They are filled with information that's going to help you. Plus, each video has a follow-along workbook, worksheets, free templates, and more.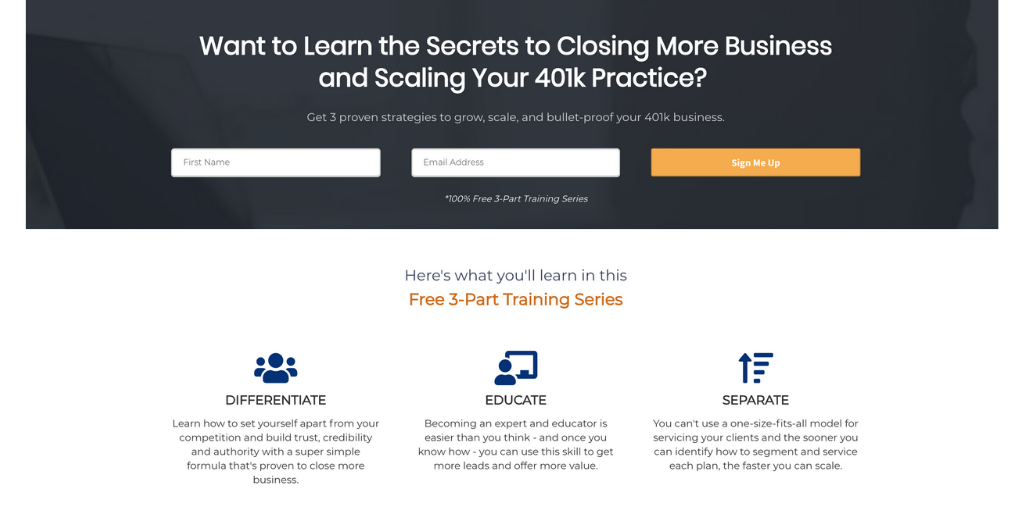 But in this article, let me give you the cliff-notes version of the BONUS lesson that was added.
Picking an Effective Prospecting Strategy
How do you get in front of more people and what's the best prospecting strategy to use?
There is not one way to bring in a thousand new plans. There are a thousand ways to bring in one plan.
What I think is important is that you have to pick a method that you find easy, effortless and enjoyable. Otherwise there won't be any consistency and you won't be able to sustain it or do it for very long.
Prospecting Methods to Choose From
One method (which is really more of a marketing method than a prospecting  method) is content marketing – that's publishing a podcast or blog post or articles on LinkedIn
Another is social media marketing
Centers of influence marketing
Networking (a lot of people prefer this one)
Paid traffic is another method
You might pick direct mail – it still works believe it or not
Cold calling (on the phone or in person)
The Key to Success
Regardless of what method you pick, it's important to be consistent.  Consistency is key.
In fact, I've heard it said that 10% of advisors only make 3 contacts with a prospect, yet 80% of all sales close on contacts 8 through 12.  So you have to be consistent and you have to be persistent. You can't give up early on any marketing method that you pick.
Converting Prospects to Clients
When you finally have an opportunity to get in front of a 401k plan sponsor, it's important to have meaningful conversations that convert. You have to ask meaningful questions that are going to identify how plan sponsors make decisions. You have to identify what's important to them (and what's valuable to them.)
What are their value drivers?
How do they go about making changes on their plan?
How did they made the decisions for any prior changes that they made to their plan?
And you want to pull them along and educate them through the process.  The 401k business has a long sales cycle so it's important to draw out your meetings and educate them all the way through the process.
It's important to provide value – ongoing and consistent value by implementing a drip program to help you keep in touch.
Once you finally have a lead, don't let them go gold. Whether it's a combination of email, direct mail, phone calls, or face to face. It's important that you implement a drip program to keep in contact with any plan sponsor prospects that you get.
And here's an important key – don't ask for anything in more than one out of four contacts. So add value, give more value, give more education, THEN offer them a benchmarking report or a free review or a call to set up an appointment to discuss their plan in more detail. One out of four. That's the ratio – 3:1  – if you want to say it a different way.
That's how you continue to build the relationship – by staying in front of them, staying in touch with them, adding value, dripping on them with valuable content and every once in a while, ask for the appointment (make an offer).
Here's a Meta Lesson on Give, Give, Give, Ask
If you've been following along with the recent blog posts, you'll see I posted three cliff-note style posts found here:
and now this article covering 401k Prospecting & Conversion Tips
If you've found the information helpful, and would like to get more practical help, such as:
A full Social Media Posts set of templates if you choose to prospect via social or your online profiles
A full Prospect Drip Program set of articles and emails to keep in touch with prospects and add ongoing value to keep your leads engaged and keep you top of mind
Best Practices Education material to offer even more value and additional content if you choose content marketing as your prospecting strategy,
and more…
Then I welcome you to take a look at the 401k Business in a Box set of templates.  There are individual template kits to help you achieve a specific objective, or you can access the complete library by becoming a 401k Quarterback and get even more personalized support in growing and scaling your 401k plan practice.
You can learn more about these programs by clicking the hyperlinks above or going to 401kbusinessinabox.com.
Note – in the 4th BONUS lesson in the free training series, I go into quite a bit of detail on the 401k Business in a Box program and the 401k Quarterback option.
The program had been closed but was recently re-opened to allow more 401k plan advisors to join and you'll find all of the details on why you might want to consider this done-for-you, turn-key sales and service template library in the full video. If interested, I would suggest that you go to https://www.401kbestpracticelab.com/free-training-workshop where you will find more context, more examples, more in-depth information, a workbook, and templates for this Bonus lesson – as well as more details about the template library.
---
Listen to the Podcast episode of this topic here.
Or watch the video on YouTube here (coming soon).