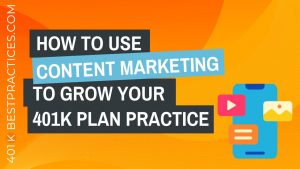 How to use Content Marketing to Grow Your 401k Business
They say that 95% of the people that find you online aren't going to buy from you anyway, so while you have their attention, why not serve them – give them something of tremendous value so they walk away with a positive feeling about you. 
This is the entire concept of what's called "content marketing."
Content Marketing = Education
Content Marketing means creating and sharing valuable, free content to attract and convert prospects into customers, and customers into repeat buyers.
The type of content you share is closely related to what you sell; in other words, you're educating people so that they know, like, and trust you enough to do business with you.
Educating in this market is critical because one of the biggest challenges advisors face is getting plans sponsors to understand what they should be placing importance on.
When you think about it, there are four levels of knowledge that are described in the book, How to Get Your Competition Fired by Randy Schwantz. 
The four levels are this…
you either know something
you know ABOUT something
you do not know it
or you do not know that you do not know it
Content marketing is one of the inbound marketing strategies that can help address this lack of knowledge and shift you need to make in your prospects minds by helping them realize and learn what they don't know.  
Providing information that is educational in nature also creates an automatic authority & prospects start to see you as the expert in the industry since you're the one teaching and providing valuable information.
People Buy What's In Front of Them
The first rule of marketing is people buy what's in front of them – so it's critical that you create a system to expose clients to the content that you distribute.
When we think about content marketing – the various tactics you can employ like blog posts, articles, white papers, webinars, offering valuable opinions and joining discussions in groups or forums, if you don't have a strategy for getting clients to actually find your content, you may as well be writing in your journal.
When you employ a specific strategy for getting your content seen, it can pre-sell your prospects by building trust and credibility and value before they ever even meet you.
So let's look at a few tips for making content marketing an effective strategy.
Content Marketing Basics
What to write about – you should be writing articles (or outsourcing that) on topics that answer your client's most burning questions, on topics they should know or be aware of, and on issues that can  impact the quality and effectiveness of their retirement plan process.
Where to post these articles so they're seen and read – include your own blog, on your LinkedIn profile, and in relevant LinkedIn groups you belong to.
How to make your content reach more people – give people a method to share your content by adding social sharing buttons to your blog.  A really easy way is through an app called SHARETHIS that is easy to add to any site even if you're not using WordPress as your blogging platform.

Social media amplifies the impact of your content. When your content is distributed across and discussed on networks of personal relationships, it becomes more authentic and is more likely to draw qualified customers to your site. Anytime you create new content and post it – share it on your social media profiles.

How to leverage your content for more exposure – your articles can be leveraged to provide additional visibility by turning the article into a slideshare presentation, using that presentation to create a video to post on YouTube, and recording the content of your article into a podcast.  There are many ways to recycle your content so that you are seen and heard by more people, increasing your visibility, credibility, and authority.
6 Steps to Content Marketing Success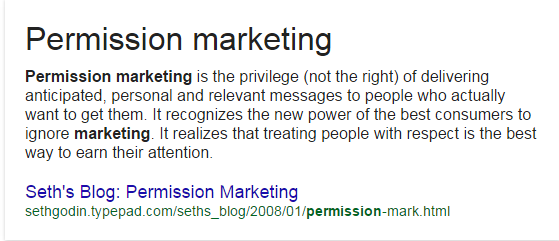 Permission marketing is a term, coined and developed by Seth Godin, and if you're going to have success in using content marketing to attract and convert your audience, you need to read this book.
2. Define what your unique service model includes, then identify 10-12 topics you could write articles on that "set the buying criteria."
David Newman discusses the concept of "setting the buying criteria" in his book titled Do It! Marketing: 77 Instant-Action Ideas to Boost Sales, Maximize Profits, and Crush Your Competition.
Here's how it works. In your marketing material (email, brochures, web sites, sales letters, etc.) you define what makes a good buying decision – and in your definition you make sure that your firm is the only one that fits the definition – this is setting the buying criteria. You do this in such a way that it excludes your competitors.  We're going to discuss this concept in more details in Part 7 of this 401k Prospecting Strategies series.
3. Schedule, create, and share one value content piece a week.
Whether you create the content in-house, or outsource it, you should plan out your marketing efforts on a weekly schedule and stick to it. As you regularly publish valuable material, you position yourself as an authority in your niche and gain exposure to your audience. Don't forget to include social sharing options on your articles and blog posts.
4. Add checklists, worksheets, PDFs, or other downloadable bonus items to your content.
Here's an example… Click here to download the Authority, Trust, & Credibility Checklist
See how that works? By making additional information available – a checklist, a PDF for folks to print and keep, or another item relating to your article – you add additional value and collect contact information that allows you to add more value in the future.
5. Create and add a "Lead Magnet" to you website.

If you visit this page (on this site), you'll see that in exchange for your email address, I'll send you ALL of my best strategy guides.  These are examples of lead magnets, or an exchange of something of value to you (Strategy Guides) for something of value to me (your email address).
6. Use LinkedIn to publish your content.
One time I posted an article on LinkedIn and received 1800 visitors to my blog – in one day! (My blog was 3 days old at the time with no promotion or exposure other than that article – imagine had I written a really good article on a wider topic that was picked up by Pulse!) Posting content to LinkedIn using the publisher option works. Posting educational articles in groups that you belong to and actively participate in also works.
Remember the goal of content marketing is to attract and convert prospects into customers by providing educational information that is valuable to your audience.
Next up, we'll talk about Cold Calling and I'll share some tips to make this strategy more effective.
---
Effective 401k Prospecting Strategies
This article is part of a series covering effective 401k Prospecting Strategies. You can access the full series using the links below:
---
Listen to the Podcast episode of this topic here (coming soon).
Or watch the video on YouTube here (coming soon).
Affiliate Disclaimer: As an Amazon Affiliate, if you make a qualifying purchase on Amazon, I may receive a commission (at no extra cost to you). I only recommend books I've read and feel you can benefit from.