Three Done-For-You Social Media Marketing Resources
If you're looking for some done-for-you content to use in your 401k marketing strategy, then let me share with you three additional providers that offer similar content to what I offer here.
(You might be curious as to why I don't mind giving information out about my competitors out – and I'll cover that too 😉 .)
The Back Story…
Recently a 401k advisor emailed me, looking for social media content and follow-up content to email out to her prospect list.
Obviously, communicating with plan sponsors who've given you their email address is a super important part of relationship building. You never want to let a lead go cold. You want to continue to add value and keep in touch with them.
I am in the business of creating content for advisors to use for getting leads and for nurturing those leads in order to convert those leads to clients. And also, more importantly, I offer a whole suite of templates that help advisors service a client to a higher standard, (to help them on the fiduciary side of things) inside the 401k Business in a Box Program.
But what this particular 401k advisor was looking for was content that I did not have available in the vault yet. 🙁
Resource 1 – Snappy Kraken
So what did I do? I sent her a link to the next best thing (or maybe even a better thing, depending on how you look at it), and that would be Snappy Kraken.
Snappy Kraken is one resource that you might want look at if you've decided that you are ready to jump full fledge into social media marketing, but you don't want do it yourself.
A lot of people are looking for done-for-you content that they can just take and post themselves, and other people are looking for content and someone to post it for them and do the follow up. And that's what Snappy Kraken does.
With a team of 60 people, they are pushing out more content than a 12 year old on TikTok. Regular content every week, complete campaigns, articles, social media, everything you can think of.
The only problem that I see with what they've got so far is, none of it is 401k specific, it's all pretty generic and built for financial advisors to use (nothing niche specific).
So if you're looking for a resource who has done-for-you content, and they'll actually do it for you too –  all of the legwork to take that content and and publish it and, and everything that goes with implementing a strategy – they've got that process down.
Their digital content is humorous, it's colorful, it's professional, and they have so many things in their library. It's just incredible. And from what I've seen from the brief demo I saw on their website, it looks very intuitive and super easy to use.
If you go to their website, you'll find they have a couple different pricing options with the very first one that pops up says $225 a month (with a 12 month commitment) or $245 a month with a $485 setup fee and no contract required – that one is month to month.
And I just have to say at that price, it's a steal – seriously (I don't know how they're able to offer it at that price), especially because they've done all of the technical automation. It's more than just a content firm. They've got the technical back office that's actually supporting and publishing that content for you and delivering the followup.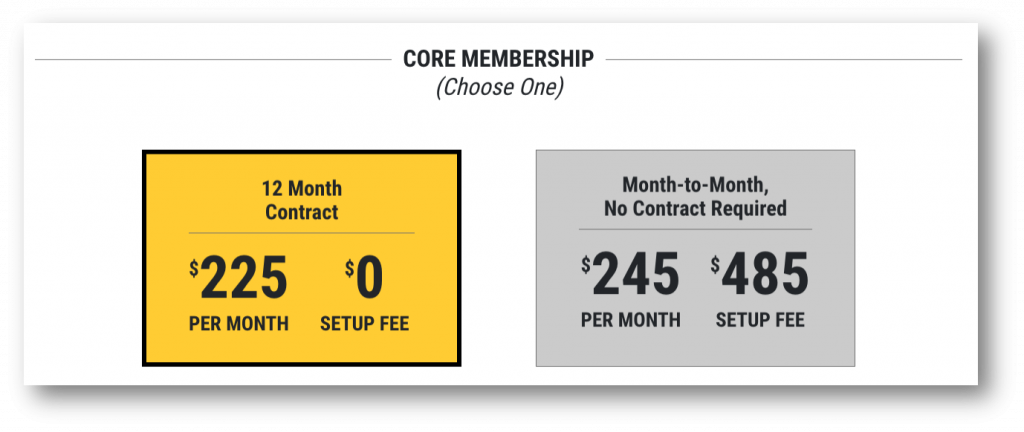 Resource 2 – 401(k) Marketing
401(k) Marketing is another resource that I'm well familiar with who has similar content, who is catering to 401k advisors.
401k marketing also has tons of content. They've got ongoing digital content, quarterly marketing strategies, weekly social media posts. They also give you a dedicated support manager.
They start at $549/month for social media posts, digital content, and a quarterly marketing strategy.  And if you want full access to the content library and their sales material, it'll cost $849/month. They even have a managed membership option where they'll handle the administration and content posting for you for $1849/month.  So they're a little more on the high side, but again, it's specific to retirement plan advisors. And they do the heavy lifting for you as well. And their material is beautiful. The design is beautiful.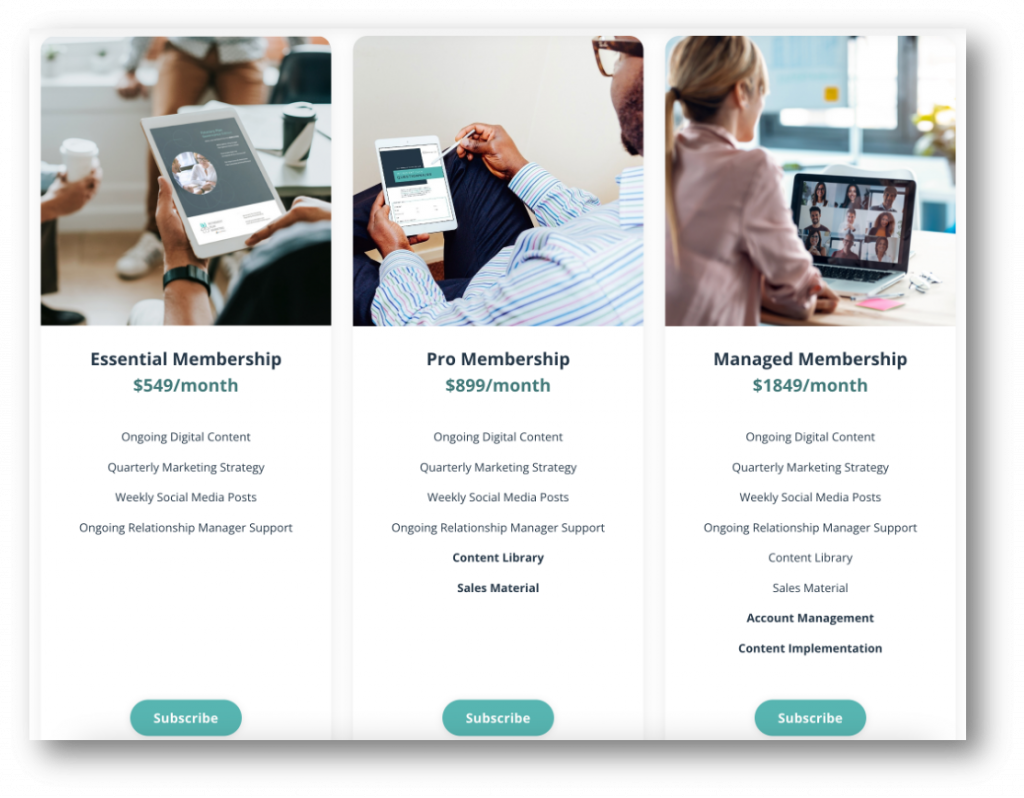 Resource 3 – Oechsli
Another firm that offers several done-for-you services (including social media posting)  is OECHSLI.com.
They've got a done-for-you podcasting package.
They got done-for-you digital content, and social content.
Their social media content starts at $99/month for their standard package with 8 designs to use on social (not editable).
They also have two other options – the Plus option which is $499/month and that gets you get access to their blog post library as well as 14 different digital assets that you can add your branding to and post to your social profiles (or they'll post for you).
And finally they have a Premium option that's $1499/month that let's you fully customize the content and gives you analytics on the content shared.
So, there are lot of other firms out there like mine providing content for advisors.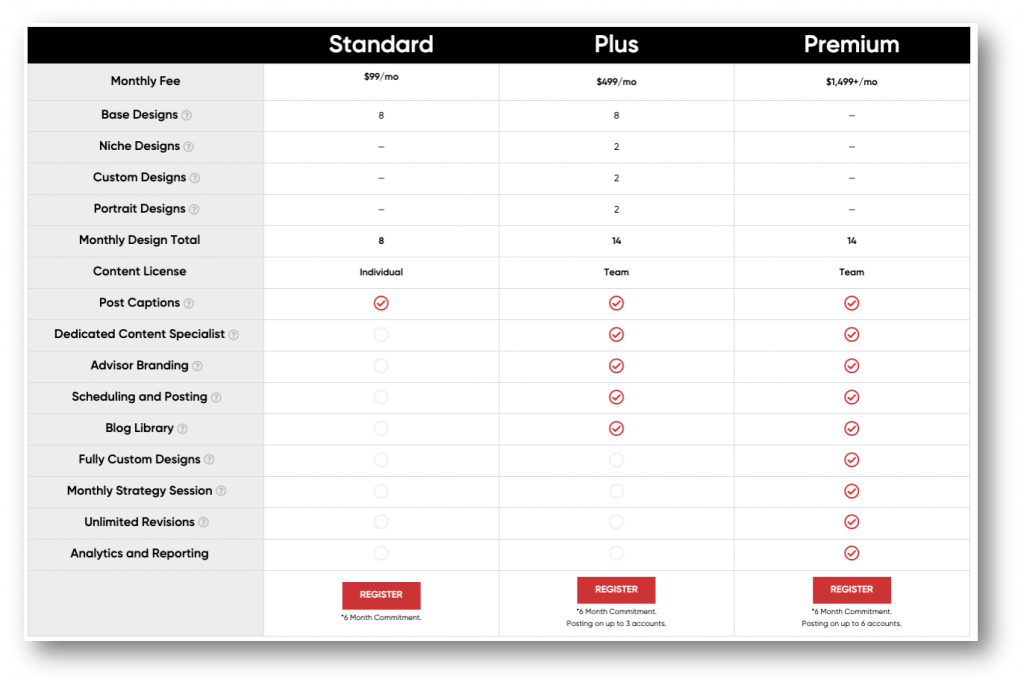 The Difference Between the 401k Business in a Box and My Competitors
I think the difference between the material that I'm putting out currently and what these other firms are putting out is…
These other firms have huge teams. I don't. Mine is a family-run business.
The other firms offer the back office automation as well.
Their prices are significantly higher because of the automation access. It takes a lot of resources to implement that type of back-office administration when it comes to social media marketing.
If you have more time than money, the templates that I put on my site are less expensive, they're fully customizable, and they're done-for-you, but you have to go and post them yourself – to your website or your blog or your social media profiles. (I'm not doing it for you. I'm giving you the content and then you can go out and take it and use it as you wish.)
If you get to a point in your business where you have more money than time and you want to just outsource all of the social media marketing (actually you can never outsource solve it – 90-95% of it maybe), then you might want to look at a firm like 401(k) Marketing or Snappy Kraken (hopefully they'll start adding some 401k content soon) or Oechsli.
Why I Don't Mind Sending Prospects to My Competition (and Why You Shouldn't Either)
Here's why I don't mind giving you information about my competition – I know what the strengths and weaknesses are of my own offering and my competitions offering, and who my ideal customer is – and not everybody is going to be a perfect fit for me.
In your business too, it's important to understand your competition, understand their strengths and weaknesses as well as your own.
And if a client comes to you and they're not a right fit, maybe they're looking for something you don't specialize in, don't try to take them on and be all things to all people. Refer them out.
I think it builds trust. It makes you more referable when you're willing to say, I would love to work with you, but I think there's somebody better suited.
What is the Social Media Posts in a Box Complete Kit?
I don't think I actually shared the details of the Social Media Posts in a Box Kit and what comes with it in any of my previous social media articles.
Here's what you need to know…
The Social Media Posts in a Box Kit is a complete set of templates that helps you set up your online profiles so you look like a 401k expert and have consistent branding across each profile, and then gives you fully customizable content to post for a full year.
It helps you:
Create a professional online presence
Set yourself apart as a 401k specialist
Helps prospects get to know, like, and trust you, making closing the sale easier
Helps build deeper relationships with prospects and clients
and Gives you a complete year's worth of ideas and done-for-you content so you don't have to think about what to post
You can see the full breakdown of everything included here.
The cost is a one time investment of $647 and includes free lifetime updates.
Sound interesting? Take a look – or contact me for a behind the scenes walkthrough of this kit – I'd be happy to show you around ;-).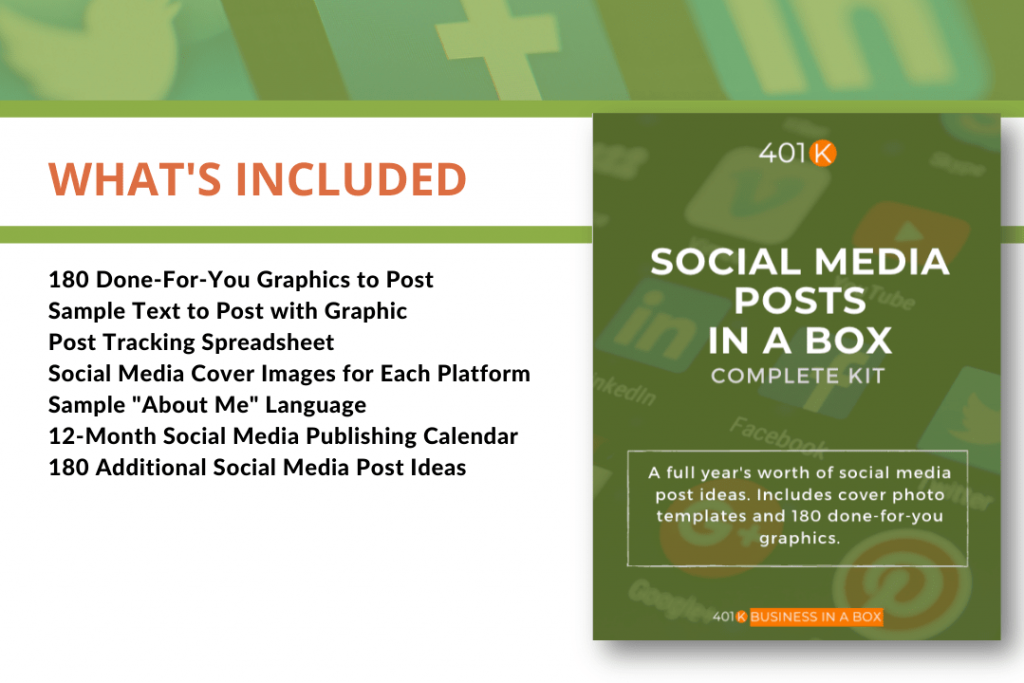 ---
Listen to the Podcast episode of this topic here.
Or watch the video on YouTube here (coming soon).