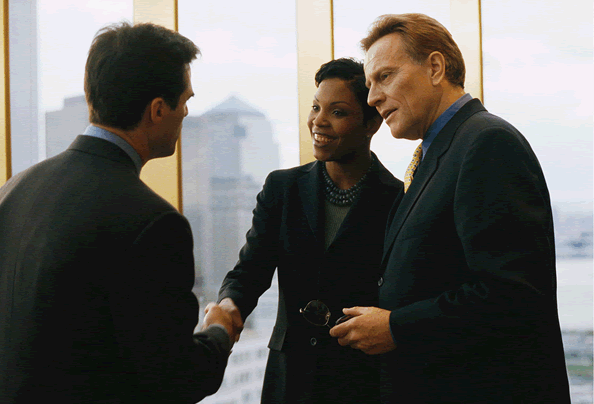 Are you guilty of using any of the following lines to fish for referrals?
Who do you know that can use the kinds of services I have provided you?"
The most important way I get new clients is referrals from existing clients."
Or how about…"Can we agree that if I do a good job, you will recommend me to other people you know?"
A referral marketing strategy is not defined as "finding the best combination of words to ask people to send you business". In fact, many of the ways we've been taught to "ask" for referrals is backwards.
"A referral is not something a client gives you; a referral is something he gives a friend."
~ Stephen Wershing
Once you understand the psychology behind why and how most referrals are given, only then can you begin to formulate a strategy to grow your business through referral marketing.
Here are six ways you can begin to build an effective referral strategy.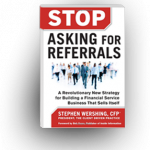 This is the most comprehensive book on referral marketing that I've personally ever read. In this book Stephen (President of the Client Driven Practice) shares industry research and data behind the psychology of how and why referrals happen, explains how to position yourself to be a clear choice when the opportunity to refer presents itself, and gives you a clear action plan for creating a referral strategy that yields results.
2. Know what kind of referrals you'd like to attract.
Once you've done your research (see step one) and are now convinced that you can't ask for referrals anymore, but rather, you need to be able to "attract" referrals, it's important to position yourself to attract the right kind of referral.
You want to attract people that fit your business model. And in order to do that, you must narrow your segment or target to address some characteristic or challenge that a small portion of the market can relate to. This is called niche marketing.
Maybe you want to work with dentist offices, or technology firms, or maybe you're the solution for companies that want self-directed options in their plan. Once you've defined who your ideal client is, it's easier for people to refer you when the situation presents itself.
Don't try to help everyone or you'll never be a clear solution for anyone.
3. Be valuable.
One of the most important ways to make referral marketing more effective is to be valuable.
Customers don't want to refer someone that does an adequate job. They want to refer someone that does a great job, someone that has a proactive service model, keeps them informed, simplifies the complicated stuff, manages the time-consuming stuff, and follows up on the administrative stuff.
Do you deliver the kind of value and experience that people WANT to pass along?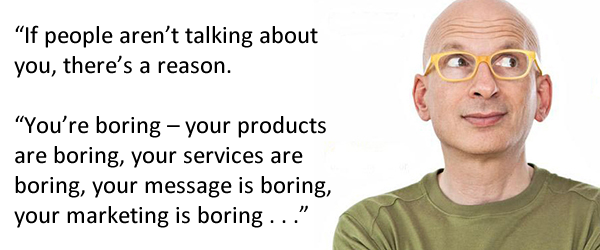 Make sure you offer great customer service and that the services you provide have tangible value to your clients that's worth sharing.
4. Engage your clients.
Don't assume your clients are satisfied with your services and that they value you as much as you value you.
To identify what your clients find valuable, measure and monitor what good customer service means from those that actually pay you to deliver. Plus, actively engaged clients are more likely to give referrals.
Start by conducting client surveys to confirm that you are delivering the kind of experience your clients want to share with other people. Identify where your clients truly see your value to be. Use the comments and feedback received to constantly refine and monitor your services and your customer's perceived value of those services.
To take it a step further, you can create a Client Advisory Board. "A client advisory board is a group of your best clients that would meet several times a year to discuss a limited agenda of questions dealing with the nature and quality of the services you provide."¹
Very few firms use an advisory board, but most of those who have done it report it is one of the most powerful business development tools they have ever seen.
5. Help your clients identify when and how it would make sense to refer you.
Take some time to talk with your clients about the solutions you provide and discuss this in terms that help them identify when they might recall you as a referral source.
Create scenarios to repeat in your meetings as you address certain topics with them so when they hear other folks talk about those topics, your name and solutions come to mind.
Reiterate who your ideal client is and how you can help them so when your clients encounter these situations, they instinctively know that referring you would help their friends.
6. Build relationships with Centers of Influence.
Centers of Influence are first and foremost concerned with how well their clients will be taken care of and unless you've proven to them through your education, value and relationship that they can trust you to serve their clients to the highest standard, you will not earn referrals.
You must demonstrate value. Find out how you can help your CPA, TPA, or ERISA attorney. Provide your support and assistance first. Offer them education or information or checklists that they can pass on to their clients that make them look good.
Consider joint initiatives like providing a calendar of important reporting deadlines and get permission to co-brand it then you can both hand it out to your clients. This gets the COI's name in front of your clients and your name in front of their clients and builds value and credibility. Host a joint education seminar that's not a sales pitch but a value-added content program.
It's essential to be a valuable resource to the centers of influence from which you hope to earn referrals long before you should ever expect any in return.
Referral marketing has proven to be one of the most effective ways to bring in new business, when done correctly. Following these steps will get you started on the right path to having success using this marketing method.
Question: What steps have you found to work to get more referrals?  Share your answer on LinkedIn, Facebook or Twitter.
---