Copy My Free Template Tuesday Strategy To Grow Your List
Want to learn a strategy that's going to get plan sponsor prospects to your website and on your email lead list?
Take my strategy and make it your own.
The Strategy…
So this week I started what I'm calling Free Template Tuesdays.
It's basically giving away something of value once a week. It's only available for a week, and it's something I would normally charge for.
AND if somebody wants to access it, they have to:
Go to my website (see it here)
Log into the member area to get to the where the templates are located. (They have to sign up for free account, which means entering their name and email address.)
So it's a way to get not only traffic, but leads on my list.
And it's a simple strategy that you can use even in the 401k industry with any sort of giveaway.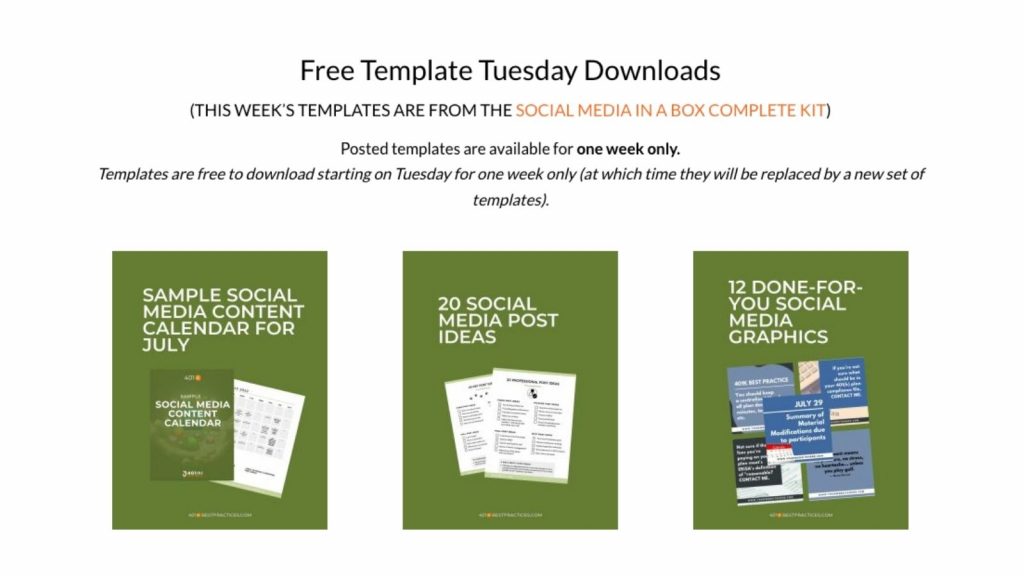 Examples for getting Plan Sponsor Leads
An example might be "Fiduciary Fridays" if you post once a week or publish content once a week.
Or "Ask Me Anything Mondays."
Or, once a week, have a live webinar or training or a live FAQ (maybe even just once a month).
You can give free compliance documents, (kind of a behind the scenes of,  "Here's what we use to service our 401k clients that you should be using. Get the template for free just by going  to (your website) or by sending an email." And that's another way that you can collect leads. It doesn't have to be complicated.
You could set up a form and they could enter their email. And then the next page, it would get them the information or a link to join the webinar. It could be as simple as, "Send us your email or fill out the contact us form on the website and let us know that you want this."
It's a way for you to get email leads. Basically the strategy gives something of value in exchange for an email address. When you have that email address, then you have permission to email your prospects and start to build that relationship. That'll hopefully turn into a client relationship.
Free Template Tuesdays
So for Free Template Tuesday today (07-05-22), I've added three social media templates to the VIP Resource Library here.
They include:
12 done-for-you social media graphics,
a sample calendar,
and a 20 ideas of what you might post on social
That's the strategy it's pretty easy to implement. And if you're looking for a way to get traffic and email addresses, think about how you could employ this strategy for your business.
Free Template Tuesday –  go here and grab your free templates because they're only up for a week and next week they come down and three new templates get put on the website.
---
Listen to the Podcast episode of this topic here.
Or watch the video on YouTube here (coming soon).