A Super-Simple Social Media Planning Strategy
Not sure what to post on your blog? On LinkedIn? On your social media profiles? Always searching for topics to talk about and share?
In this article, I'm sharing a super-simple social media planning strategy to make coming up with content to publish online easy.
We're talking about publishing content on your blog, on your LinkedIn profile, on your Twitter profile. Any platforms that you have online so that when people look you up online, when they find you, you've got educational, value-added content that helps them get to know like, and trust you.
Here's the Secret Strategy – THEMES
So one super-easy way to plan out your marketing for the month is through the use of themes. Pick a theme for the week or month, depending on how often you publish.
For example, this week for me, the theme is online marketing and each article or podcast or blog posts that I publish will be a subtopic of that theme. For example, today, the topic is themes. Other topics this week might include;
How often you should publish.
What to publish.
First steps to take once you decide, "Yeah, I think I do should do online marketing."
How to use online marketing to grow your prospect list, to get more leads, etc.
Next week the theme will be about nurturing your prospect list and engaging with those who follow you online.
Examples of Creating Content around Themes
So some examples for you might be to think of the word fiduciary and what topics might you publish about around the theme of fiduciary.
What is a fiduciary? You could answer that question.
What fiduciary roles an advisor typically takes, or might not take.
Fiduciary training available (maybe you even offer fiduciary training or you offer to send them the "Meeting Your Fiduciary Responsibilities" guide (which is free from the Department of Labor). But if you ask them to contact you, you can send them a PDF of that guide and in turn, collect their email address, and now you've got a new lead.
Maybe how to limit fiduciary liability, maybe even offer a free Investment Committee Starter Kit when talking about that topic. (you can get a free investment committee starter kit  to give away here).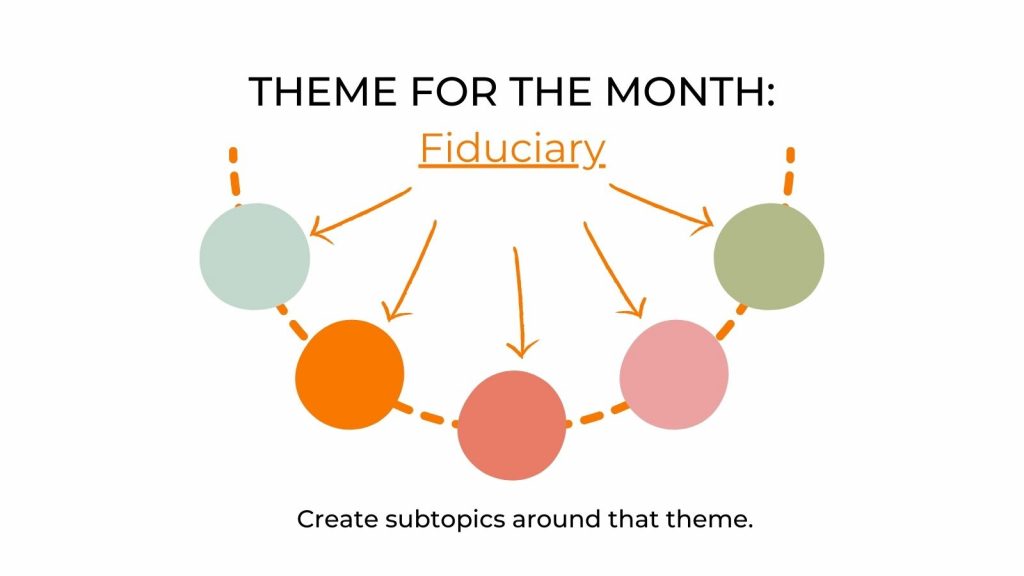 Maybe another topic might be benchmarking and that week or month you can post about:
Why to benchmark.
How to benchmark.
Key things to look at when benchmarking, because obviously it's not all about fees.
Maybe you can even offer a benchmark report if someone hasn't done that in the last three years, which can get you a qualified lead as well.
So start publishing and use themes when planning out how to grow your business online, or maybe even just to provide value to those that follow you and find you online.
---
Listen to the Podcast episode of this topic here.
Or listen on YouTube here (coming soon).