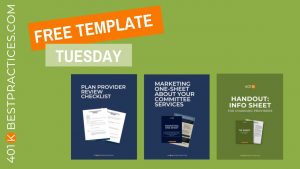 Free Template Tuesday Downloads Now Available Starting Aug 9, 2022
Every week inside the free VIP Resource Library, I give away one or more templates from the 401k Business in a Box Library (normally only available inside the paid program).
Here are this week's free templates.
Click Here to go to the VIP RESOURCE LIBRARY and Download the FREE TEMPLATES
---
Service Your Clients:
Plan Provider Review Checklist
A best practice is to review plan providers annually. This review should include identifying any services not utilized or delivered, needed to be added, etc. and to verify the fees stated in the contract are what was charged. Also important is to review and identify the resolution of any complaints received. These are a few items this checklist covers.
Today you can access the Plan Provider Review Checklist – which you'd walk plan sponsors through during your annual review meeting (or during the quarter you address provider fees / benchmarking, etc).
---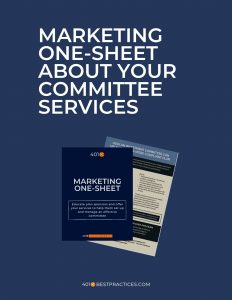 Grow Your Business:
Marketing One-Sheet About Offering Committee Services
A lot of advisors help plan sponsors understand how to set up and manage a successful investment committee.  If you offer that service, this one-sheet makes a great marketing piece that can be customized and added to your website, sent to prospects, printed and handed out, etc.
Today you can access this Marketing One-Sheet that describes the committee services you could offer.
---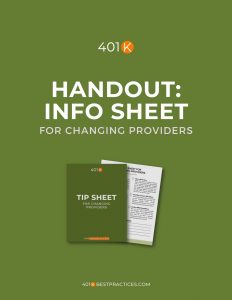 Grow Your Business:
Handouts – Tip Sheets for Changing Providers
As plan sponsors look to make provider changes on their plan, there are some important points they may not be aware of.
Today you can access this Provider Tip Sheet (two different formats included) that gives valuable tips to help plan sponsors avoid trouble before and during the provider change process.
---
All three templates are available this week only inside the Free Resources VIP Library.
If your'e not already a member, click here to join now.