Free Template Tuesday Download Now Available Starting September 20, 2022
Every week inside the free VIP Resource Library, I give away one (or more) templates from the 401k Business in a Box Library (normally only available inside the paid program).
Here is this week's free template.
Click Here to go to the VIP RESOURCE LIBRARY and Download the FREE TEMPLATE
---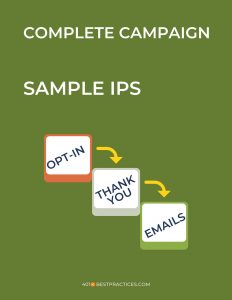 Grow/ Manage Your Business:
Complete Campaign (Funnel) – Sample Investment Policy Statement
Inside the Prospect Drip Content in a Box Complete Kit, you'll find a complete campaign that lets you collect leads online in exchange for giving away a sample Investment Policy Statement.
This complete campaign PDF includes:
Copy for the Opt In page (where prospects give you their email address and ask for the IPS)
Copy for the Thank You Page (where you deliver the IPS or tell them to check their email for the link/PDF)
Copy for 2 follow-up Emails
(Even if you don't set up the opt-in funnel – the emails are a great follow-up to anyone that requests this handout via email).
Today you can access this Sample IPS Complete Campaign.  Just log into the Free Resources VIP Library to access.
---
If you're not already a member of the VIP Resource Library, click here to join now (it's free).